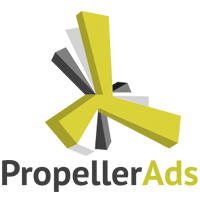 Berlin, Germany (PRWEB) June 27, 2016
One of the world's leading advertising networks, Propeller Ads, has announced that they will be represented at this year's Affiliate World Europe conference in July.
An offline meeting point for online marketers, currently in its second year, the event brings together over 150 market presenters and more than 2,500 marketers from around the world. For two days, the gathered experts will take part in presentations and workshops run by industry leaders to improve their craft and share their own insights.
Last year's AW conference featured representatives from Facebook, Google and more. Both companies will be represented this year as well, along with Shopify, Go2mobi, Machinima, and more.
The Propeller Ads team will have a Market Table (Booth #21 at Zone 4) at the event, and will be prepared to discuss affiliate marketing innovations, trends, and best verticals with attendees.
In addition to Affiliate World Europe 2016, Propeller Ads' events lineup for this year include Affiliate Summit East 2016 in late July, taking place in New York City.
To book a meeting with the Propeller Ads team at AW 2016, please visit https://propellerads.com/events/ .
About Affiliate World Europe
Affiliate World creates an offline meeting point for online marketers, where the elite of the industry gather. It's a place to learn from peers, share successes, and meet with other affiliate-enthusiasts. AW kicked off in 2015 in Bangkok, Thailand with an astonishing first edition that exceeded all expectations. This year, they return for more—bigger and better in Berlin.
About PropellerAds
PropellerAds is an independent advertising network that specializes in monetization and marketing solutions for digital media publishers, marketers, agencies and networks. Serving ads in more than 195 countries across North and South America, Europe, Asia and Africa, PropellerAds currently delivers 20 billion ad impressions and thousands of campaigns monthly across desktops and mobile devices. To learn more, please visit propellerads.com.