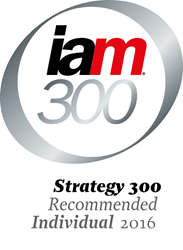 Chicago, Illinois (PRWEB) June 21, 2016
ktMINE, an innovation and intellectual property (IP) information services firm, announced today that its Chief Executive Officer, David R. Jarczyk, was among the World's Leading IP Strategists named to the Intellectual Asset Magazine (IAM) Strategy 300 for the fifth consecutive year. The unique guide lists the individuals that in-depth research, undertaken by a team based in London, Washington, D.C. and Hong Kong, has shown possess world-class skills in the development and roll-out of strategies that maximize the value of patents, copyright, trademarks and other IP rights.
Jarczyk recognized that intellectual assets represent up to 80% of corporate value, but that it was impossible to figure out a company's innovation strategy by reading its filings or listening to management. He knew that only by understanding a company's innovation strategy could the true value of a company be determined. So he started a company, ktMINE, to find scattered data which, once organized and connected, allows the prediction of companies' strategies. That undertaking turned him into an evangelist for corporate data transparency, getting him named one of IAM's world-leading intellectual asset strategists each year since 2011.
"It is an honor to be recognized amongst the world's pre-eminent IP strategists and included once again in the IAM Strategy 300," said David R. Jarczyk "ktMINE continues to expand our IP data sets and streamline our platform to provide professionals around the world a broader range of intelligence."
"The IP market is becoming increasingly international, with companies across the world now focusing on creating maximum value from the assets that they own. That makes IP strategists more important than they have ever been before," says IAM editor Joff Wild. "We are delighted that this publication has become the recognized source of reference for those seeking to identify the men and women who offer best-in-class expertise. What's more, we believe that the roles all those named in the IAM Strategy 300 play is only going to increase in importance over the coming years. We salute each and every one of them."
The IAM Strategy 300 is available in printed format and online at http://www.IAM-media.com/strategy300.
About IAM
IAM is produced in London by the IP Division of Globe Business Media Group and reports on intellectual property as a business asset. Its primary focus is on how intellectual property can be best managed and exploited to create corporate value. The publication's core readership comprises senior executives in IP-owning companies, corporate counsel, private practice lawyers and attorneys, licensing and technology transfer managers, and investors and analysts.
About ktMINE
ktMINE, headquartered in Chicago, IL, is an innovation and intangible assets information firm founded in 2008. Focused on mining, organizing and connecting the world's IP information, ktMINE provides businesses across the globe access to insights on industry players, technologies, and developments. For more information visit http://www.ktmine.com, or contact ktMINE at +1 (312) 253-0926.