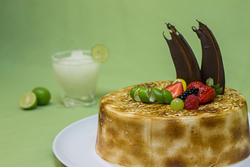 enjoying the mousse is sure to transport you mentally to a vacation state
Puerto Vallarta, Mexico (PRWEB) June 22, 2016
For a light and airy dessert to bring to a summer soirée, Mexico's Velas Vallarta shares its Margarita Mousse recipe that is sure to impress all one's friends. Though not everyone can make it to our southern neighbor this summer, enjoying the mousse is sure to transport one mentally to a vacation state.
Recipe
Crust Ingredients
2 ¼ C Chocolate Chip Cookie Crumbs
7 T Butter
6 T Wheat Flour
½ C Granulated Sugar
1 Egg
Mousse Ingredients
¾ C Lime Juice
3 T Orange Juice
1 can Condensed Milk
1 can Evaporated Milk, chilled
1 ½ T Gelatin Powder
3 oz Don Julio White tequila
2 oz Orange Liqueur
Classic Meringue Ingredients
½ C Granulated Sugar
½ C Egg Whites
2 oz Lemon Juice
1 T Lemon Zest
Directions

For the Mousse: Combine the evaporated milk (chilled) and condensed milk in a blender and blend at full speed until you get a foam consistency. In a separate bowl, hydrate the gelatin in ¾ C of cold water. Add the remaining citrus juices and liquors into the bowl and then add to blender. Put the mix in a mold and let it refrigerate for two hours.
For the cookie crust, mix all the ingredients at the same time and bake the dough at 320 F for 15 minutes.
For the meringue, whisk the egg whites and sugar at high speed. When you can make peaks, add the zest and lemon juice, and stir for three more minutes.
Let the cookie crust cool completely before adding the margarita mousse mixture on top. Cover the mousse with the lime meringue and torch for a smokey flavor.
Nightly rates at Velas Vallarta start as $153 per person per night, based on double occupancy. All-inclusive rates include suite accommodations, a la carte gourmet meals at a variety of specialty restaurants, premium branded beverages, 24-hour in-suite service, fitness center, taxes, gratuity and more. For reservations or more information, please call 1-888-407-4869 or visit http://www.velasvallarta.com.
About Velas Vallarta
Velas Vallarta is an all-inclusive family resort located on 10 acres of oceanfront with lush gardens in Puerto Vallarta, walking distance of Marina Vallarta Golf Course and just minutes from downtown Puerto Vallarta. Situated on the emerald waters of Banderas Bay, Velas Vallarta features 345 suites in three eight-story buildings, a high-tech Convention Center that can accommodate up to 700 people, three swimming pools, a rejuvenating spa along with spa cabins seaside, fitness center, multiple restaurants, and an inviting lounge with live music. Nightly theme dinners and local specialties are sure to please even the most discerning palate, and room service is available around the clock. When it comes to daytime and evening entertainment, guests can choose from an exciting and original array of activities and events, from making piñatas and jewelry, yoga on the jetty to Mexican fiestas and casino nights. The recently renovated Kids' Club also welcomes children under 13 with supervised activities like treasure hunt, face painting, sand castles to crafting with beads, allowing parents to indulge in a choice of exciting or relaxing pursuits like a game of golf, a variety of excursions or pampering at the spa. In addition, the resort was one of the first in the destination with a Green Globe certification, dating back to 2008. Puerto Vallarta features championship golf courses, world-class spas and magnificent beaches, not to mention various sports and activities up in the Sierra Madre Mountains. The possibilities for rest and relaxation, or fun and excitement, are endless. Velas Vallarta was built and is operated by Eduardo Vela Ruiz, majority owner, founder and president of Velas Resorts, with brother Juan Vela by his side, vice president of Velas Resorts.