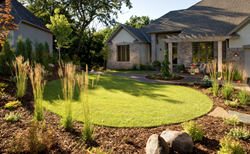 "You can, in fact, create a new and improved first impression of your home," said Karen Filloon of Southview Design.
Minneapolis, MN (PRWEB) June 21, 2016
Southview Design recommends that new homebuyers look past lackluster curb appeal when deciding whether or not to buy a home, particularly in today's seller's market where competition for homes is at all-time highs.
The current real estate market is leaving many potential buyers on the curb having to make a quick decision about buying a home. Homes with good 'bones' in desirable neighborhoods priced under $250,000 are in very short supply. According to the Minneapolis Area Association of REALTORS®, pending sales were up 10 percent last month, and there's only a 2.3 months' supply of homes, which means that every home for sale would sell in just over two months if no new homes came on the market.
Despite the pressure to make a quick decision, most buyers still have a list of 'must-haves' for their future home. However, a home lacking curb appeal that fails to make a positive first impression shouldn't stop a buyer from making an offer, said Southview Design landscape designer Karen Filloon. "It's not that hard to improve the curb appeal of a home," she said. "You can, in fact, create a new and improved first impression."
Filloon said the lack of curb appeal can be overcome with a front entry update that takes the home's architectural style as well as the homeowner's personal style into account. Older homes in particular can have old hardscapes, crumbling concrete and an outdated look. Invest in landscaping, and you'll also get it back in the end, studies show. Professional landscaping can add as much as 15 percent to the value of your home.
Filloon suggested using the following checklist to determine the next steps in changing the curb appeal:
1. Safety: Provide safe access by adding or redoing walkways, stairs, landings and railings. Don't forget to add exterior and landscape lighting for security and safety.
2. Home Features: Add or replace doors, windows, porticos and structures to the home to draw attention to the main entry.
3. Outdoor Features: Build living spaces such as patios, courtyards and porches out front. These are great places to connect with neighbors for morning coffee, evening drinks and occasional conversations.
4. Landscaping: Is the front of the house mostly sunny or largely shaded? Understanding what kind of light the front of your house gets will determine what kinds of plants to use in your front yard landscape design.
5. Lighting: We mentioned it before and we'll say it again: lighting has a huge affect on making that first positive impression, because it can highlight the architecture of the home and extends outdoor entertaining into the evening hours.
6. Fun Add-Ons. Don't forget about fun add-ons, such as water features, sculptures and anything that reflects the home's uniqueness and your own personal style.
Southview Design's landscape designers have created several inviting, award-winning front entries. For before and after photos of front entry updates, see http://blog.southviewdesign.com/patios/searching-for-a-home.