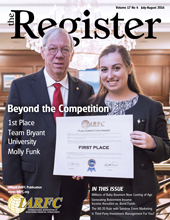 Our Register publication is an effective visual representation of the professionalism you find in the IARFC Association....IARFC Chairman, H. Stephen Bailey.
Middletown, OH (PRWEB) June 23, 2016
As the feature story, the National Financial Plan Competition is viewed in two ways; as the event itself - how it is structured and organized and later - how the event affects the participants "Beyond the Competition". As the competition itself, students are given a fictional case study of a family and asked to develop a financial plan utilizing the prescribed data. These plans are sent to the IARFC office and put through three levels of judging. Beyond the facts and data, lie the ulterior motive of exposing young professionals to those who have decades of experience and relevant advice. When the competition focuses beyond the process, it then becomes more meaningful to the young professionals competing.
The main presenter Jon Rogers, the IARFC Treasurer, talked of the importance of being a person of ethics and integrity. It is a fundamental concept and the basis for everything a financial consultant does. It is the student's goal to focus on…beyond the competition. This edition additionally depicts the competition in a storyboard of inspiring and descriptive photos.
The balance of Register deals with financial topics of interest for the membership. The wealth of practical knowledge is relevant by articles on annuities, marketing seminar events, third party investment management and relationship bridges. A benefit to members, the Register not only provides an educational opportunity for its writers, but allows consultants to make their personal brand, company and philosophies more visible.
"Our Register is an effective visual representation of the professionalism you find in the IARFC Association," relates H. Stephen Bailey, the IARFC Chairman. "The editorial team headed by Wendy Kennedy strives diligently to deliver an outstanding publication on a bi-monthly basis."
An electronic copy of the Register is available on the IARFC website. Anyone wishing to be a contributing writer should contact the editor-in-chief, Wendy Kennedy at editor(at)iarfc(dot)org.