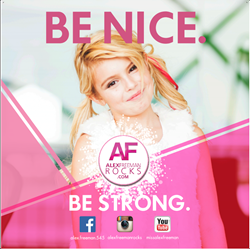 Boca Raton, Fla. (PRWEB) June 21, 2016
Miss Alex Freeman: singer, songwriter, entrepreneur and youth motivational speaker is excited to announce that on June 23 she will be opening for Kidz Bop in front of 10,000 people and doing a five set performance at the Leon Festival in Syracuse, New York.
"My dad has always collected globes and I always have looked at them and wondered what I could do to affect and inspire all the kids living there and create music they can enjoy," Freeman said. "I am 9 years old and living my dream to be an entertainer and inspire others. This show is a huge opportunity for me."
At the Leon Festival there will additionally be fun activities including a Family Fun Zone, Hometown Hero section, Coco the Clown Face Painting, bounce houses, a photo booth, craft tent, balloon animals, food trucks, a visit with holiday costumed characters and live music.
She will be performing and doing a full meet and greet with all the kids, presenting her new lip butter line and giving away inspirational bracelets and autograph cards at the festival. Her goal with the line was to create quality cosmetics for girls.
Alex recently released her first EP, Kindergarten Wishes & First Grade Dreams, featuring original songs she wrote, sang and co-produced. She wrote the songs as a kindergartener and finished them in first grade. Her EP is available for download on iTunes, Google Play, Amazon, I Heart Radio and various other platforms.
Alex Freeman also has a YouTube series that gives numerous helpful hints to youngsters that will be important throughout life such as accepting compliments, respecting others and kindness in short videos just over a minute long. She expresses the importance of setting goals and achieving them no matter what obstacles are in the way and inspires others to go for their dreams. View her YouTube channel at http://www.youtube.com/user/MissAlexFreeman. To learn more about her and her music, visit and subscribe to her YouTube profile.
For more information about Alex visit her website, http://www.alexfreemanrocks.com. For more information about Leon Festival go to http://www.leonfestival.com