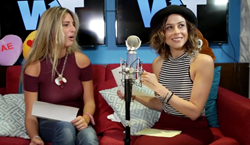 Shira and the What's Trending team have created something that has the potential to evolve into E! Entertainment for millennials and Generation Z
New York, New York (PRWEB) June 22, 2016
Zype, the direct to consumer video business platform, announced today that What's Trending, the Emmy-nominated social-video brand created by celebrated web personality Shira Lazar, has selected Zype to power its expansion into over-the-top (OTT) video streaming. The OTT build-out began with ad-supported channels on Roku and Amazon Fire TV and will be followed shortly by another branded destination on Apple TV.
"Shira and the What's Trending team have created something that has the potential to evolve into E! Entertainment for millennials and Generation Z," said Ed Laczynski, Founder and CEO of Zype. "We are excited to bring them to the new big screen and empower them with a flexible infrastructure that that can accommodate their evolving business model and success. In partnering with Zype, the What's Trending team has set the stage for limitless growth while ensuring themselves full lifetime ownership and control of their data, their content and their audience."
Zype's infinitely scalable model provides the independently owned and operated company with a turnkey solution for all their OTT video management needs, including distribution, monetization and analytics. The Zype platform, which enables scale of audience, scale of content and fully flexible diversification of revenue, was developed to accommodate an unsurpassed level of custom configuration across web, mobile and OTT platforms.
"We built What's Trending with a specific voice, look and feel that we are very passionate about. When we ventured into OTT, we wanted to make sure it made sense for how not just our current but new viewers would connect with our content," said Shira Lazar. "With Zype, we are able to customize and manage in a way that we can't with others. We're creating environments on these channels that will continue to allow consumers to serendipitously bump into our brand wherever they are and on whatever device they're using. Ed and his team have made it super easy by delivering on their promise of being a one-stop shop and providing us with an easily adaptable solution that allows for seamless, organic and infinite growth."
The What's Trending channels on Roku and Amazon Fire currently feature more than ten hours of video content including daily uploaded updates on viral videos, trends and the social media water cooler from Shira and a team of on-air hosts, as well exclusive interviews and original programming.
About What's Trending
What's Trending is an award-winning US-based media company and online destination curating and producing original programming around the hottest digital trends and topics every day. With over 100 million YouTube views to date, What's Trending has collaborated with the biggest online and traditional personalities in entertainment and pop-culture. Founded by host and digital influencer pioneer Shira Lazar, What's Trending's innovative, groundbreaking and interactive programs have been recognized by the Primetime Emmy Awards, the Webbys, the IAWTV, the Streamy Awards and others since the company's launch in 2011.
http://www.whatstrending.com
facebook.com/whatstrending
youtube.com/whatstrending
twitter @whatstrending
About Zype
Zype is the direct to consumer video business platform, dedicated to making it easy for content owners and brands to own their audience and their revenue streams without any middlemen. The Zype cloud service provides publishing, monetization, streaming, audience management, and analytics software that is integrated into hundreds of web, mobile, and OTT apps and engaged by millions of viewers every month. Launched in 2014 and headquartered in New York with offices in Los Angeles, Zype is the 2015 SXSW Accelerator winner in the entertainment and content technology category.
http://www.zype.com
facebook.com/zypevideo
twitter @zype
Media Contact:
Pete Holmberg / Zach Williams
Code Morris
pete.holmberg@codemorris.com / zach.williams@codemorris.com
917-501-7434