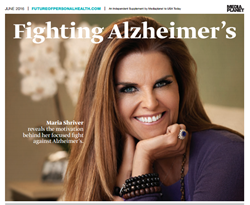 It's a crisis and an epidemic.
New York, NY (PRWEB) June 24, 2016
Mediaplanet today announces distribution of their latest edition, "Fighting Alzheimer's," a cross-platform campaign that showcases the innovations in treatments and technology, either on the market or in development, focused on treating Alzheimer's. Over five million Americans have developed Alzheimer's, with someone developing the disease once every 67 seconds in the United States. This disease is not only a physical one, but also an emotional one that hits patients and the loved ones surrounding them, making it imperative that we give it our fullest attention.
"It's a crisis and an epidemic," explains Maria Shriver. She goes on to say, "There are many caregiver organizations and support groups. It's important for people in those situations to build their own village of people they can turn to."
The campaign also features an exclusive section dedicated to caregivers across America. It's estimated that over 65 million people, or 29% of the U.S. population, act as a caregiver for a disabled or aged family member or friend. It can be incredibly difficult to manage a work schedule, social life and home life when devoting over 20 hours a week to caregiving. Mediaplanet set out on a mission to create a section that will serve as a resource for caregivers everywhere and let them know that they are not alone.
The section features an exclusive interview with former co-host of Good Morning America and expert caregiver Joan Lunden, as well as articles from the Visiting Nurses Association of America and the Caregiver Action Network. Joan advises caregivers everywhere to make sure they are taking good care of themselves as well, "If you look at the statistics, people who are caregivers to others tend to fall into worse health and have shorter life spans than their non caregiving counterparts."
The print component of "Fighting Alzheimer's" is distributed within USA Today from June 24 -26 with a circulation of approximately 250,000 copies and an estimated readership of 750,000. The digital component is distributed nationally through a vast social media strategy and across a network of top news sites and partner outlets. To explore the digital version of the campaign, click here.
This campaign was made possible with the support of the Alzheimer's Association, Maria Shriver, CDC's Healthy Aging Program, National Institute on Aging, Joan Lunden, Visiting Nurses Association of America, American Stroke Association, Caregiver Action Network, Van Alden Institute, BrightFocus Foundation, Allergan, Asceneuron, ClariMem Health, Inc., Biogen, DecisionHealth, Honor, and many more.
About Mediaplanet
Mediaplanet is the leading independent publisher of content-marketing campaigns covering a variety of topics and industries. We turn consumer interest into action by providing readers with motivational editorial, pairing it with relevant advertisers, and distributing it within top newspapers and online platforms around the world.
Contact:
Harika Manne or Gabe Seidman
Harika.Manne(at)mediaplanet(dot)com
Gabe.Seidman(at)mediaplanet(dot)com
646-755-7951
646-922-1419