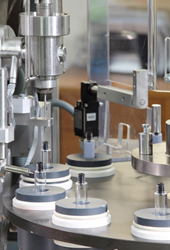 CENTER HARBOR, N.H. (PRWEB) June 21, 2016
Smartware Group, Inc., producer of the cloud-based Bigfoot CMMS for modern maintenance management, announced today the addition of Penny Goss Technical Solutions (PGTS) to the "Bigfoot Ecosystem" to assist regulated user environments with their EAM software validation requirements as a Preferred Bigfoot Validation Partner.
Packaged with an intuitive and simple user interface, the Bigfoot CMMS solution gives safety, maintenance, and production personnel a full suite of powerful functionality to improve the results of safety initiatives, reduce asset downtime, and automate business processes for greater efficiency and effectiveness. Bigfoot solutions, such as Occupational Safety & Health (OSH), already allow user organizations to comply with OSHA, HSE, or EU-OSHA standards. But companies that are governed by regulatory or industry bodies such as the FDA or ISO, for example, face a layer of complexity in validating their particular Bigfoot configuration after initial implementation and major software releases.
Pharmaceutical manufacturers, food processors, and other regulated organizations that fail to achieve timely software validation risk mandated product recalls and prolonged audits, with the potential for forced plant shutdowns. Smartware Group's partnership with PGTS now grants companies the ability to conduct software validation projects during Jumpstart Consulting engagements, to simplify their CMMS implementation experience while ensuring compliance success.
"PGTS brings a practical approach to software validation for Bigfoot users to reduce overall risk," said Paul Lachance, president of Smartware Group. "By tying this Preferred Bigfoot Validation Partner into our Jumpstart Consulting services, Smartware Group clients benefit from working with a partner who is familiar with the Bigfoot solution and its agile development process while setting the stage for easier, recurring validation compliance."
PGTS was founded by Penny Goss in 1999. Goss has over 16 years of information technology experience and is a published author and frequent presenter. She has worked with various systems, agencies and standards, including Sarbanes Oxley Controls and the HITECH Act and Final Omnibus HIPAA rule. PGTS takes pride in delivering commonsense policy, procedures, and software validations that stand up to quality review without hindering business activities.
"Today's SaaS solutions, like Bigfoot CMMS, require a different validation method than what's used for older technology, such as client-server solutions," said Goss. "It made perfect sense to combine my SaaS validation expertise with Smartware Group, as the leading innovator within the CMMS industry."
Smartware Group was recently recognized by Frost & Sullivan's Manufacturing Leadership Awards as a 2016 Manufacturing Leadership Technology Partner. The Manufacturing Leadership Council, Frost & Sullivan, is the world's first member-driven, global business leadership network dedicated to senior executives in the manufacturing industry; its Manufacturing Leadership Awards celebrate industry achievement. Bigfoot user Dave Paetsch, plant engineer at Elgin-IL-based Multifilm Packaging , was bestowed a Manufacturing Leadership Award for Visionary Leadership at the twelfth annual Manufacturing Leadership Summit on June 8 in Carlsbad, California.
For more information about PGTS or other Preferred Bigfoot Partners, visit http://www.bigfootcmms.com/company/partners.
About Smartware Group, Inc.
Smartware Group, Inc., headquartered in Center Harbor, N.H., produces Bigfoot CMMS for manufacturing, distribution, data centers, hospitality, mining, and energy & utilities industries.
Since 2002, Bigfoot has helped more than 10,000 users worldwide improve facility and equipment maintenance operations with advanced capabilities that include preventive maintenance (PMs) and predictive maintenance, work order scheduling, maintenance requests, asset life cycle management, parts replacement inventory, and built-in reporting. Bigfoot CMMS' native functionality paired with its intuitive design allows maintenance professionals to implement the solution and get results quickly, often in a matter of weeks.
The Bigfoot solution was named a 2015 "Product of the Year" by Plant Engineering magazine, and previously earned a Bronze Stevie® Award during the 11th Annual International Business Awards in the Best Interface Design category. Experience the Bigfoot difference by accessing a free trial at http://www.bigfootcmms.com/free-trial today.