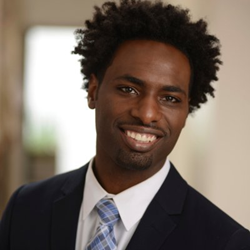 I am honored to be a part of the team of HR and management experts on Jane's Advisory Board, and excited to see our collective expertise being put to good use.
Philadelphia, PA (PRWEB) June 22, 2016
Jane, an innovator in talent acquisition, proudly announced today that it has welcomed talent management expert Jameel Rush PHR, SHRM-CP to the company's Advisory Board.
As Director of Organizational Development at Day & Zimmermann and the President Elect of the Philadelphia Society of Human Resources Management, Mr. Rush brings to the board immense expertise in human resources and best hiring practices. In over a decade, he has held management and human resources roles within a wide variety of industries, including government, pharmaceuticals, and engineering. Prior to his current role at Day & Zimmermann, Mr. Rush spent over 8 years with Aramark Corporation as Director of Global Diversity and Inclusion, as well as being an HR generalist in Aramark's Sports and International groups. Mr. Rush also lends his professional efforts to Temple University as an adjunct professor, helping to guide the curriculum of their Human Resources Program.
Mr. Rush's contributions to talent acquisition and management, and diversity and inclusion have been recognized by organizations such as the Philadelphia Business Journal, which named him in their "40 Under 40" Class of 2016. He was also named one of Philadelphia's Top 55 Connectors and Keepers by Leadership Philadelphia in 2014.
As a member of Jane's Advisory Board, Mr. Jameel Rush will provide expert guidance in several key areas, such as organizational and leadership development, talent management, and diversity. This will further support Jane's mission to provide a growing roster of nationwide clients with the strategic insight and solutions they need to make smarter and more successful hiring decisions.
"I am honored to be a part of the team of HR and management experts on Jane's Advisory Board, and excited to see our collective expertise being put to good use," commented Jameel Rush.
"At Jane, we're excited to welcome Jameel to our Advisory Board," said Everett Reiss, COO and Co-Founder of Jane. "Not only does Jameel bring a strategic understanding of and expertise in leadership, development, and diversity, his creative energy and optimism are contagious."
For additional information, contact ev(at)janehires(dot)com or visit https://janehires.com.
About Jane
Jane makes hiring simple. Jane frees up valuable time for HR managers and company executives engaged in hiring. Jane is not a recruiting firm. Jane has pioneered their hiring-as-a-service™ solution as a disruptive force in the HR marketplace. Jane clients get a real, live hiring assistant who specializes in all of the administrative tasks necessary for making good hires. Jane's behind-the-scenes cloud platform seamlessly organizes the hiring process by making it intelligent and efficient. Pricing begins at $200. Hiring tasks include creating job descriptions, posting jobs, qualifying & scoring candidates, organizing the interview process, and much more.
Jane Enterprise Group (JEG) uses intelligent data and process optimization to grow better hire ratios, implement smart retention strategies, and significantly reduce the risk of poor hire decisions for Fortune 1000 companies.
Jane's clients include Toshiba Business Solutions, Mobiquity, and TEQ. Jane has offices in Philadelphia and New York.