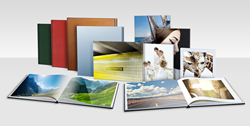 Design professionals can even use their own layout software and upload their custom photo book designs as a PDF
New York, NY (PRWEB) June 22, 2016
WhiteWall, a leading professional online photo lab, now offers personalized digital photo books. The new line of premium photo books is a great addition to its current products and services such as photos under acrylic glass, on Aluminum, as well as custom frames. WhiteWall photo books are available in a number of different formats in a large range of paper types, and feature a variety of cover options. Intuitive software makes it easy and fun for photographers and enthusiasts to create beautiful books for any occasion including weddings, special milestones, or simply a creative way to display your best photos. Design professionals can even use their own layout software and upload their custom photo book designs as a PDF. Regardless of the occasion, WhiteWall customers can be assured that the quality and craftsmanship found in its gallery-quality prints and finishes will also be present in every photo book they produce. The software's online sharing mode makes it easy to collaborate on creating a photo book online with friends and family around the world.
When designing a photo book, customers have the flexibility to choose from a number of features, such as:

Six different formats including small landscape, small square, standard portrait, standard landscape, large square and large landscape
A huge range of covers including printed linen and soft covers, complete with robust linen-texture lamination, if desired. Leather covers are also available in seven colours: marine blue, burgundy, dark brown, light brown, green, red, and black. Other variations include a silky-soft SoftTouch, which is both elegant and original, while a velvety cover is the perfect finish for a particularly high-end photo book.
A variety of paper types, which WhiteWall has provided specifically for its photo book product, includes the understated glossy 170 gram classic as well as a high-gloss variation to ensure brilliant colors. Other options include the Premium silky matte (250 grams) or Premium Matte Uncoated (170 g) which presents all images without glare for a high quality, easy-to-view look. Photographers and enthusiasts are able to create a photo book up to 252 pages.
WhiteWall's user-friendly software, which is ready to use without the need to download and install, helps guide customers through every step of the design process, with draft versions saved online and accessible from any connected device. Users can easily integrate images from Facebook, Flickr, SkyDrive and other social networks while clear previews deliver a real impression of the end results.
About WhiteWall
WhiteWall is a brand owned by Berlin-based Avenso GmbH, which has operated the photo lab as well as the WhiteWall.com online service since 2007. Photography hobbyists and professionals around the world rely on WhiteWall's exceptional quality. With its LUMAS brand and more than 40 galleries around the world (three in the US), Avenso GmbH has been democratizing the art market for over ten years through its hand-signed art editions by renowned international artists. B&H Photo, the largest photo retailer in the US, also recognizes WhiteWall's world-class quality and now offers their gift certificates, redeemable at WhiteWall.com. All of Avenso GmbH's photographic works and products are exclusively produced in, and shipped from, the WhiteWall photo lab in Frechen, Germany, just outside of Cologne.