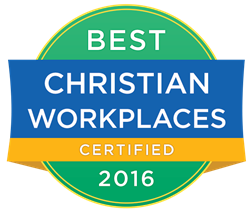 San Antonio, Texas (PRWEB) June 22, 2016
The C12 Group, the nation's largest organization of peer advisory groups for Christian CEOs and executives was honored as a Certified Best Christian Workplace by the Best Christian Workplaces Institute. BCWI is an international non-profit, research-based, organizational development and human resources consulting firm with a vision to see Christian workplaces set the standard as the best, most effective places to work in the world.
"Attaining BCWI Certification is not easy," said BCWI President Al Lopus. "About half of the organizations we survey achieve Certification, and many organizations survey multiple years before receiving this distinction."
With full-time board Chairs in over 90 US metro markets, The C12 Group's BCWI Certified status reflects a "healthy-to-flourishing" culture, meeting predetermined standards of excellence on eight factors; fantastic teams, life-giving work, outstanding talent, uplifting growth, rewarding compensation, inspirational leadership, sustainable strategy, and healthy communication.
The C12 Group President and CEO Mike Sharrow believes working with BCWI will help spur C12 to continuously improve as an organization.
"We are humbled by this Certification. Part of our promise it to strive to practice everything we promote, which includes an eternally balanced scorecard and God-honoring culture."
Dave Shoemaker searched for a career with greater impact for years before opening his C12 Group practice in Philadelphia.
"I wanted to leverage two joys in my life and use them for God's glory; work with business owners to help them get a step closer to their hopes and dreams, and share with groups in a transparent, authentic, and vulnerable way. I learned of C12 through an only-God moment and knew it was what He had been preparing me for my entire career."
Led by highly-knowledgeable, full-time board Chairs, the C12 experience includes monthly peer advisory groups and one-on-one coaching sessions for qualified member companies. Current C12 members include companies from 1 million to 1 billion in annual revenue.
However, C12 is not a professional networking group, business Bible study, or a guest speaker forum. It's a movement of leaders changing the world by advancing the Kingdom of God through the marketplace. C12 members gain insight and wisdom from those who have "been there". The business leaders within each group encourage and hold each other accountable to the core values and Biblical principles that guide them while working to improve their businesses.
David Gullotti, Vice President of Market Expansion for The C12 Group, helps new C12 Chairs discover the best and highest use of their God given gifts, talents, skills, abilities, and passion to help C12 members build great businesses...with a greater purpose.
"Being a C12 Chair is an opportunity to be part of a National movement of leaders, and we are on the verge of exponential growth in the next 5 years. Being a part of C12 as a full-time Board Chair has both temporal and eternal benefits."
The C12 Group is actively seeking movement leaders in large metro markets including New York, Los Angeles, Seattle, Miami, and Boston. To explore becoming a C12 Chair in any of these cities, or in your current location, visit the C12 website at C12group.com/careers or call the main office at 336-841-7100.