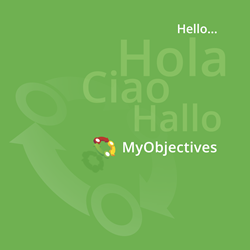 Our European partners have been asking us to bring our objectives and scorecarding approach to their customers, and today we are happy to welcome international teams to our unique software. -- Chris Pieper, CEO of Alliance Enterprises
Dupont, Washington (PRWEB) June 22, 2016
Alliance Enterprises releases today version 2.0 of its industry-leading goal setting and achievement software service, MyObjectives®. The update includes localized language support in Spanish, German, Italian and UK English, making it available to over 500 million people worldwide who natively speak one of these languages.
"Our European partners have been asking us to bring our objectives and scorecarding approach to their customers," said Chris Pieper, CEO of Alliance Enterprises, "and today we are happy to welcome international teams to our unique software."
Alliance will market MyObjectives software outside of the U.S. through Libera, a technology services firm that conducts business in Europe, Africa and the Middle East. Libera CEO Stephanie Hobson said MyObjectives is the only goal-setting platform in the industry that brings fun to the workplace while also delivering the serious business result of increasing employee engagement.
"We're excited to offer this unique service to teams and companies across our multi-national territory," Hobson said. "Every team realizes the importance of setting objectives that connect to overall goals. Only MyObjectives makes this common process fun by allowing team members to develop their own scorecards and to earn rewards as they make progress towards their goals."
Numerous global studies have shown that engaged and aligned employees lead to higher productivity and higher profitability for their organization. MyObjectives 2.0 expands the software's core ability to engage employees in a team-based effort to craft and align their short-term objectives to the organization's long-term goals in a game environment.
In this global release, players now have better scorecard functionality and more team-to-team and player-to-player interaction that drive engagement. Enhanced real-time dashboards provide leaders a more complete view of progress across the organization whether they're in the Western or Eastern hemispheres, or span them.
"Going global involves more than just language translations," said Sven Akerman, Chief Technology Officer and Cloud Solutions Director at Alliance. "By leveraging Microsoft's Azure fabric, we are able to meet the requirements of European nations for cloud-based EMEA hosting, and responsive service delivery."
Additional updates for MyObjectives 2.0 include new features, refinements and video tutorials to help users get up and running quickly, to increase the engagement factor and to bring more fun to the workplace. Read more about what's new.
About Alliance Enterprises – Founded in 1981, Alliance has a rich history of developing and maintaining market leading software solutions for enterprise records management and goal management applications. Alliance's Aware solution is the number one choice for records management, data analytics and cloud services used by more than 12,000 rehabilitation service providers across 33 state agencies and 26 tribal nations. Alliance's new goal management software, MyObjectives, helps self-directed teams achieve better outcomes by integrating goal achievement, engagement and gamification within a process that is rewarding and fun. For more information, visit http://www.allianceenterprises.com