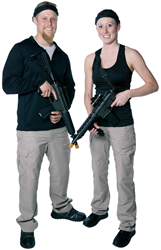 Waukesha, WI (PRWEB) June 22, 2016
iCOMBAT Waukesha, Wisconsin's best tactical laser tag experience, will celebrate an exciting three-year anniversary by offering all Waukesha sessions this weekend at Half-Price!
"We had ambitious plans when we opened the nation's most realistic tactical laser tag facility here in Waukesha three years ago," said Rick Jensen, President of iCOMBAT. "Since then, people from all 50 states and over 40 countries have enjoyed playing and fully immersing themselves into our thrilling missions."
iCOMBAT now has had more than 50,000 players from all over the world visit and play. In addition, iCombat has served as a specialized training center for more than two dozen local law enforcement and military units including the Milwaukee County Sheriff's Department, the Midwest Tactical Officer's Association and the UW-Whitewater Reserve Officer Training Corps. iCOMBAT regularly provides leadership training, team building, corporate outings and educational classes for numerous Fortune 500 corporations.
As a thank you to all the loyal customers and as a salute to three fun-filled years, iCOMBAT will be offering all Waukesha sessions this Thursday, Friday, Saturday and Sunday for only $15.
"We greatly appreciate the great reception we have received here in Waukesha and Madison! We look forward to opening our third location in the Chicago area later this summer," said Jensen. "We look forward to seeing the best players from each location challenge each other in the coming months."
About iCOMBAT – iCOMBAT Waukesha is the ultimate combat entertainment venue in Wisconsin. This ultra-realistic laser tag experience puts players into a fully immersive experience on a Hollywood-style movie set. Players must strategically complete thrilling missions to accomplish their team goals. iCOMBAT uses equipment so realistic that the US Military and Special Forces around the world train with it.