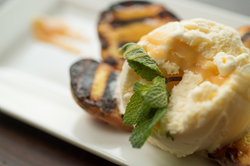 "Some of the featured menu items will be Breast of Duck with a Ginger Peach Reduction, Peach Tea, Grilled Peaches a la Mode and Waffles with Fried Cinnamon Peach Compote," says Executive Chef Heather Cash.
(PRWEB) June 23, 2016
Enjoy a Peachy summer at the Peaks of Otter Lodge, where locally sourced peaches selected at the prime of their season offer an exciting, seasonal dining experience. Peaks is no stranger to introducing an innovative, fruit themed menu, but 2016 kicks off it's first Peach Month, offering delectable peach dishes for breakfast, lunch, and dinner.
Executive Chef Heather Cash has created a locally sourced menu where peaches are picked and utilized at their season's prime. "We are offering locally sourced peaches from Gross' Orchards located less than fifteen minutes from the lodge in Bedford" says Cash.  "Some of the featured menu items will be Breast of Duck with a Ginger Peach Reduction, Peach Tea, Grilled Peaches a la Mode and Waffles with Fried Cinnamon Peach Compote.  The specials will change daily so you can dine multiple times and enjoy a different
In the heart of the Blue Ridge Mountain's culinary scene, Gross' Orchard will provide fresh peaches for a true farm to table sensation. Orchard Partner Ronnie Gross is looking forward to a continued relationship with Peaks of Otter Lodge through Peach month this July. "Gross' Orchard is all about farm to table – straight from the field to the dining guest's plate. Working with Peaks of Otter Lodge has been a great way to promote the local sourcing," says Ronnie.
This special dining experience pairs perfectly with sweeping views of Abbott Lake and Sharp Top Mountain, enhancing every guest's experience at the lodge.
Have a fruitful summer at Peaks of Otter Lodge and book an overnight stay now. Peak's Peachtime Package includes lodging, a delicious breakfast, plus one complimentary Chef's Choice Peach Dessert. Book online at http://www.peaksofotter.com/Year-Round-Packages.aspx or call 888-454-7711. Other lodging packages and great deals are also available.
About the Blue Ridge Parkway
The Blue Ridge Parkway is a product of the Depression Era's New Deal efforts to provide jobs to the unemployed of the Great Depression. Construction began in September 1935 at Cumberland Knob near the North Carolina and Virginia state line. The idea was to create a link between Shenandoah National Park to the edge of the Great Smoky Mountain National Park. Completed in 1983, the Parkway's history has been highlighted by documentarian Ken Burns in the six-part "The National Parks: America's Best Idea."
Named "America's Favorite Drive", the Parkway offers 469 miles of scenic roadway connecting the Great Smoky Mountains National Park in North Carolina to Shenandoah National Park in Virginia. All along the way visitors will find stunning views, abundant hiking trails, picnic areas, campsites, interpretative exhibits and a diverse display of flora and fauna.
About Delaware North's parks and resorts business
Delaware North is a global leader in the hospitality industry, operating lodging, recreational activities, food and beverage services, retail and educational programming at destinations throughout North America, Australia and Asia. Delaware North operates in many of the country's iconic national and state parks, including Kalaloch Lodge in Olympic National Park and Niagara Falls State Park, as well as at cultural attractions such as Kennedy Space Center Visitors Complex. Its portfolio also includes five luxury resorts in Australia. To learn more about Delaware North's hospitality management expertise, visit http://www.delawarenorth.com/industries/park.
About Delaware North
Delaware North is one of the largest and most admired privately-held hospitality companies in the world. Founded and owned by the Jacobs family for nearly 100 years, it is a global leader in hospitality and food service with subsidiary and affiliate operations in the sports, travel hospitality, restaurants and catering, parks, resorts, gaming and specialty retail industries. Its portfolio includes high-profile venues ranging from sports stadiums, entertainment complexes, national parks, restaurants, airports, and some of the top regional casinos in the country. The company also owns a selection of award-winning destination resorts, as well as a series of premium restaurants and catering services that are leaders in the industry. Delaware North has annual revenue exceeding $3 billion with 60,000 employee associates serving half a billion guests in the United States, Canada, the United Kingdom, Australia, New Zealand, and Asia. "Delaware North" is a reference to Delaware North Companies Inc. and its affiliates and subsidiaries, including location-specific operating entities.
Additional lodging promotions, events and activities for planning your Blue Ridge Parkway getaway are available at http://www.peaksofotter.com or call 888.454.7711 to speak with the reservation office.
Delaware North at Peaks of Otter Lodge
P.O. Box 489 • Bedford, VA 24523
888-454-7711 ● 540-586-1081
http://www.peaksofotter.com