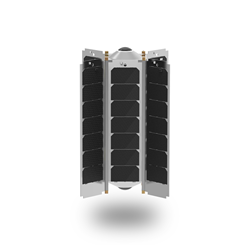 San Francisco, California (PRWEB) June 23, 2016
SpaceVR, a venture-funded startup developing the world's first virtual reality hardware and software platform enabling users to experience space firsthand using any mobile, desktop, or virtual reality device, has selected Pumpkin Space Systems Inc. (Pumpkin) as its prime contractor to build SpaceVR's Overview 1 CubeSat bus hardware and space flight software.
The Overview 1 hardware bus package is derived from Pumpkin's space-proven MISC™ series of CubeSat class nanosatellites. Overview 1 also utilizes subsystems from Pumpkin's SUPERNOVA™ architecture to simplify payload integration, enabling a launch to the International Space Station in less than 9 months from a paper design / Preliminary Design Review (PDR). The next 99 customers can pre-order lifetime unlimted content from SpaceVR at http://www.spacevr.co/preorder for only $99. #BeAnAstronaut
"By selecting Pumpkin as our prime contractor, SpaceVR builds upon over thirty years of experience to ensure that we create a stable and robust technological architecture that functions now, but also scales into our future goal of live cinematic virtual space tourism," said Blaze Sanders, SpaceVR CTO.
"By placing SpaceVR's internally designed VR camera payload and advanced NVIDIA K1 CPU/GPU processing unit on the Pumpkin bus, we build a platform ready for the advancements occurring both at Pumpkin (CubeSat controlled via REST API, GHz-class on-orbit processing and IP-based payload connectivity) and SpaceVR."
"We are delighted to serve as SpaceVR's bus foundry for the Overview 1 mission," said Andrew Kalman, Pumpkin's President and CTO. "Overview 1 places best-in-class demands on CubeSat bus architectures. By combining our MISC 3 advanced manufacturing techniques with our core SUPERNOVA subsystems, the SpaceVR's Overview 1 VR CubeSat will have unprecedented power and mission flexibility."
"Since our entrance into the nanosatellite market in 2000, Pumpkin has delivered many 'firsts,' including high-power deployable solar arrays for nanosatellites, a unique high-reliability tiny RTOS, ultra-high-performance imaging systems, and off-the-shelf availability of a wide range of popular space-proven products. All of Pumpkin's products are engineered with volume production in mind. As we co-develop Overview 1 with SpaceVR, we imprint our design ethos onto it to ensure that SpaceVR's growing constellation of assets in Low Earth Orbit, the Moon, and Mars is commercially viable."
About SpaceVR
Located in the heart of San Francisco's emerging nano-satellite industry, SpaceVR is focused on creating cinematic, live, virtual space tourism. SpaceVR Founder and CEO Ryan Holmes was inspired by a phenomenon called the Overview Effect, which is the moment an astronaut realizes their place in an infinite universe by direct observation. Leading to reprioritization of protecting the earth and working together on a global scale, SpaceVR's will launch state of the art virtual reality camera satellites into space to capture this experience and distribute it throughout the world for entertainment and education. For more information, please visit: http://www.spacevr.co/#spacevr
About Pumpkin
Founded in 1995 and located in San Francisco, Pumpkin creates products used in a wide range of high-tech industries. A worldwide leader in the nanosatellite market, Pumpkin Space Systems has enabled dozens of successful space missions by providing nanosatellite components and complete CubeSats to government, commercial and educational organizations,. Experts in small satellites, product design, embedded systems, manufacturing and rapid turnaround, Pumpkin has delivered unique and cost-effective solutions to customers world-wide. For more information, please visit http://www.pumpkinspace.com