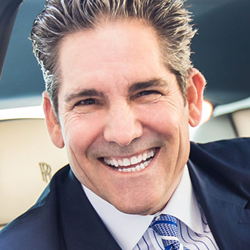 "I want to help you reach millionaire status, even get rich, if you believe that you deserve to be the person in the room that writes the check for a million dollars." – Grant Cardone
Miami Beach, FL (PRWEB) June 22, 2016
Grant Cardone, NY Times bestselling author, and international sales expert has just finished writing The Millionaire Booklet: How to Get Super Rich which has already been translated it into 47 different languages. There are only 48 books in existence that have been translated into more than 47 languages—including the Bible, the Qu'ran, Sherlock Holmes, Harry Potter, and Alice in Wonderland to name a few. In comparison, the hit novel The Da Vinci Code by Dan Brown was translated into 44 languages and The Great Gatsby was translated into only 42 languages.
The Millionaire Booklet was written as a step-by-step guide to building new millionaires. With over half a million people reaching millionaire status in the US last year alone, Cardone encourages more people to get control of their finances and to get rich. The Millionaire Booklet explains that anyone can get super rich if they simply follow Grant's plan. Readers come away with easy to digest concepts that they can use confidently and successfully to get rich themselves. Cardone, who has accumulated over $100 million himself, codified how he got rich and shows others exactly how they can duplicate it.
No get rich quick. No overnight success. This isn't the lottery or some fantasy story. This is hard work, commitment, and repeated actions proven to work.
According to Cardone, becoming a millionaire is a necessity in 2016 and beyond. People now more than ever must get out of the middle class to take care of their families and finance their dreams. Cardone was inspired to write The Millionaire Booklet after attending a charity event where the goal was to raise $2 million, but only $1 million was raised. Everyone wanted to give more but nobody was able to—they just didn't have enough money to hit the mark. One individual at the event stepped up to personally donate the last million. It was miraculous how the event changed at that moment. There was not a person in the room who didn't want to be the guy who gave that last million.
"I want to help you reach millionaire status, even get rich, if you believe that you deserve to be the person in the room that writes the check for a million dollars." – Grant Cardone
Just a few of the languages that The Millionaire Booklet is being translated into includes Spanish, Hebrew, Greek, French, Italian, Japanese, Swedish, Turkish, Gaelic, Chinese, Dutch, Arabic, Telugu, Korean, and Russian among others. Copies are available for purchase at http://www.millionairebooklet.com
About Grant Cardone:
Grant Cardone is a business strategist, marketing and branding expert, the leading international sales expert in the world and best-selling author of five books. Cardone owns multiple companies; Cardone Training Technologies , Inc., Cardone Group (a software and technology business), Grant Cardone TV (online media network--GrantCardoneTV.com), and Cardone Acquisitions, a national real estate company which currently owns over 3,500 units throughout the United States.
Cardone is the world's top sales training expert with the most viewed online sales training site in the world today with over 1500 segments of content used by companies like Ashley, Aflac, All State, Google, MIT, Inside Sales, Udemy, Chrysler, Toyota, Morgan Stanley, T-Mobile, AT&T, Sprint, Fran Tarkenton Companies and thousands more. You can follow Cardone on Twitter @GrantCardone or visit http://www.GrantCardone.com
----
For further press information on Grant Cardone please contact Vaughn Reynolds:
Vaughn Reynolds – Public Relations
Vaughn(at)GrantCardone(dot)com
Cardone Training Technologies, Inc
Phone: 310.777.0255
Fax: 310.777.0256
Web: http://www.grantcardone.com