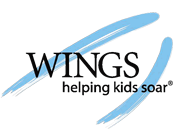 "WINGS exemplifies the type of evidence-based social and emotional learning programs we believe make an enormous difference for at-risk students,"
Charlotte, NC (PRWEB) June 22, 2016
WINGS for kids, a nonprofit afterschool program that helps elementary students build social and emotional skills, announced today that it received a three-year, $600,000 grant from the NoVo Foundation. The grant will support the current social and emotional learning (SEL) curriculum, fund direct service expansion and bolster the organization's strategic growth.
"WINGS prides itself on providing kids with the social and emotional skills they need to succeed in and outside of the classroom," said Bridget Laird, CEO of WINGS for kids. "With the support of the NoVo Foundation, we will be able to enhance our impact in current and future cities over the next three years."
The grant will specifically allow WINGS to meet and exceed its student achievement goals, complete a University of Virginia-led evaluation of its program, expand programming in Charlotte and Atlanta, begin to replicate the program in new sites (such as Los Angeles) and finalize strategic initiatives. By accomplishing these goals, WINGS for kids can accommodate more students in their programs, enhance its current impact and best chart its long-term direction.
"WINGS exemplifies the type of evidence-based social and emotional learning programs we believe make an enormous difference for at-risk students," said Gary D. Schwartz, Senior Director at NoVo Foundation. "We're proud to continue our support of WINGS and excited to see the organization grow to serve more students nationwide."
The NoVo Foundation has aspired to advance SEL initiatives at all educational levels in the United States and believes this approach can serve as a tool to address the achievement gap. WINGS is the only afterschool program in the country that focuses solely on improving SEL for students. In partnering together, the two organizations can provide thousands of kids across the country with strong social and emotional skills and ensure their success in high school and beyond.
In addition to the NoVo Foundation award, WINGS for kids received $50,000 from the George Lucas Foundation. It also received direct support for its Charlotte programs from the Belk Foundation($60,000), the Foundation for the Carolinas via the Charlotte Mecklenburg Community Foundation ($26,500) as well as Wells Fargo($25,000).
"WINGS stands out for a commitment to effective after-school programs that help close the achievement gap," said Johanna Anderson, executive director of the Belk Foundation. "In supporting SEL, we hope that the organization can continue to make a lasting difference for our kids here in Charlotte."
WINGS will use these awards to bolster its SEL programming and continue to make a difference for elementary school children throughout Charleston, Charlotte and Atlanta.
About WINGS for kids
WINGS for kids is a nonprofit education program that teaches kids how to behave well, make good decisions and build healthy relationships. The program weaves a comprehensive social and emotional learning curriculum into a fresh and fun afterschool program specifically targeted toward supporting low-income, minority students. Kids get the life lessons they need to succeed and be happy -- and a safe place to call home after the school day ends.