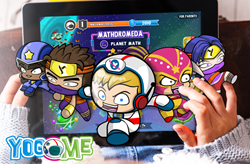 "Epic was designed to be a perfect combination of fun and education—a unique entertainment environment for children.
San Francisco, CA (PRWEB) June 22, 2016
Yogome's Epic Heroes of Knowledge launched in the Apple app store on June 17th, 2016, with coming releases on other mobile platforms. In addition to the popular Yogotar characters, Epic Heroes of Knowledge features a whole galaxy of planets to explore and a gallery of intergalactic bad guys to battle.
Manolo Diaz, founder and CEO of Yogome, says of the new game, "Epic was designed to be the perfect combination of fun and education—a unique entertainment environment for children. At first sight, it looks like an exciting action game, but underneath the game is a complex, structured educational system."
New content is being developed and added to the platform every month, building towards a complete curriculum in eight areas for grades Kindergarten through fifth.
Current content includes the following:
Math: basic operations, time telling, sums and subtractions with fractions
Science: respiratory system functioning, light refraction, genetic inheritance
Programming: ordering instructions, building switches, using conditions
Health: food groups, healthy habits, safety
Geography: seas and mountains, world capitals, marvels of the world
Creativity: imagine and paint, make music, build your own robot
Languages: vocabulary for numbers, fruits, and parts of the body
Sustainability: recycling, air quality, taking care of the environment
Epic Heroes of Knowledge is Yogome's new flagship educational app. With millions of downloads, Yogome brings substantial experience in the field of educational technology. The latest app not only teaches kids, but also gets them excited about learning.
Yogome's partnership with Yale University's play2PREVENT Lab will provide unique insights into how children interact with their games. The Lab is completing a randomized controlled trial that has enrolled over 130 first graders to examine the impact of Math Heroes, a part of Yogome Epic Heroes of Knowledge, on Common Core Standards around math, the players' sense of self-competency around math, and their gameplay experience. "We feel that one of the unique opportunities provided by games such as the ones developed by Yogome is that they can potentially enhance the enjoyment of the actual process of learning in addition to the amount of content learned," said Lab director Lynn Fiellin, M.D., "such that we may not only create better learners but happier ones."
Epic Heroes is also an engaging adventure game that provides children a world to explore and play. The Galaxy of Knowledge features eight different planets to discover and save from the evil minions of Queen Ignorantia. When children play the educational mini-games, they win Power Cubes, which help them gear up to defeat the bad guys. Children can play as one of eight Yogotars, each of whom has strengths and weaknesses.
When they want a break from battling the bad guys, children can explore the Yogovillage, where they can build their own structures and even train a pet. They can also hang out in the League of Galactic Heroes and challenge friends to head-to-head battles.
With the release of Epic Heroes of Knowledge, Yogome also introduces their updated Parent Dashboard, which keeps parents informed about their children's progress and allows them to set challenges and send rewards. The Parent Dashboard also provides tips that help parents support their children's learning, plus ideas for fun educational activities and games families can do together.
Epic Heroes of Knowledge is a subscription-based educational platform, providing access to continuously updated content. Monthly subscriptions are available for $5.99 and yearly subscriptions for $59.99. Epic Heroes of Knowledge is currently available in English, Spanish, Portuguese, and Simplified Chinese.
About Yogome
Yogome is an educational technology company based in the United States and Mexico, committed to building learning adventures for 21st-century families.
For more information contact:
Manolo Diaz, CEO, manolo(at)yogome(dot)com
Alesha Bishop, Head of Innovation, alesha(at)yogome(dot)com