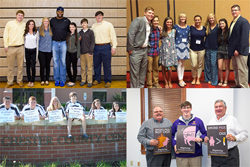 It's a really active group to be a part of, and I like spending time with people who have both similar and different points of view
Henderson, Tennessee (PRWEB) June 22, 2016
Members of Chester County High School's Health Council spent the academic year spreading acts of kindness, sharing anti-bullying messages and launching an anti-smoking campaign throughout the community.
In early May, student members of the council — Emily Eads, Lauren Rogers, Grant Matthews, Daniel Scott, Presley Connor and Blake Catlett — presented a session and debuted their promotional video at a statewide conference hosted by the Tennessee Coordinated School Health Institute in Murfreesboro.
"The students did a wonderful job. Several of the participants asked for the video link, so they could show it in their counties," said Heather Griffin, a sponsor of the council.
The students also delivered anti-smoking posters to Henderson Mayor Bobby King and Chester County Mayor Dwain Seaton and spoke before several community leaders prior to their presentation in Murfreesboro.
The Student Health Council began in 2008 to promote five areas of total personal fitness — mental, physical, social, emotional and spiritual. Students are selected to participate based on teacher recommendations.
"We were really looking for the kind of kids that weren't already involved in every sport or every club," Griffin said. "Maybe the teacher might have thought they had some leadership potential."
Amy Eads, who is also a council sponsor, said the program seeks dedicated students who want to make an impact on their school and "would see through big projects that we've approached them with or that they've approached us with."
Rising juniors Presley Connor and Emily Eads have been members of the health council since junior high school. "It's a really active group to be a part of, and I like spending time with people who have both similar and different points of view," Connor said. Eads credits her involvement in the council with helping her to feel more comfortable reaching out to people she normally would not.
Members of the council will participate in the Tennessee Teen Institute in June, where they will brainstorm new health, safety and anti-drug messages for the 2016-17 school year.
CCHS Principal Ricky Catlett called members of the health council "great models of character. They bring awareness to the dangers of tobacco use and bullying, and we're excited to have them represent our community," he said. The students meet regularly, even during the summer, to plan activities.
Located in Henderson, Tennessee, Chester County High School is part of the Chester County School System. Troy Kilzer II serves as director of schools. For more information, visit http://chestercountyschools.org/.