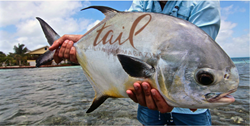 "Our goal is to produce the best fly fishing publication on the market" - FlyBoss
Miami Beach, Florida (PRWEB) June 22, 2016
Tail Fly Fishing Magazine continues to gain momentum through Father's Day. The extraordinary publication continues to capture the interests of fly fishing anglers, industry thought leaders, new subscribers, friends, families and fans from all over the globe.
Joseph Ballarini aka "FlyBoss", founder of Tail Fly Fishing Magazine, states, "Our goal is to produce the best fly fishing publication on the market. We are all personally involved with contributors, advertisers and our readers. We value our personal connections and refuse to be a faceless media outlet." Since it's inception in September 2012, Tail Fly Fishing Magazine has been dedicated to quality, continual improvement and not losing touch with our readers and fans.
We like that our magazine is the only publication focused only on saltwater fly fishing, says Flyboss. The publication has always encouraged catch and release fishing and is a huge supporter of conservation and protecting of the environment.
"We want to maintain our personality and connection with the community," states FlyBoss. The magazine likes to explore the smaller USA manufacturers and artisans, the local boat manufacturers, as well as photographers and artists from all walks of life. FlyBoss claims; "We welcome creativity with open arms at Tail, especially artists, travelers, technical experts, we especially like all the pure fly fishing features from all over the globe."
Tail Fly Fishing Magazine will be coming to home or office on September 1, 2016. Until then, read the digital version of Tail online. The next issue will be released on July 1st, 2016.
The latest issue can be accessed at TailFlyFishing.com or flyfishbonehead.com/tail