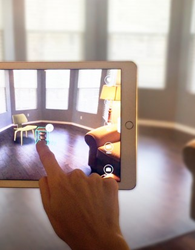 With more than 2,000 products now, Pair has the largest AR furnishings catalog available
Mountain View, CA (PRWEB) June 22, 2016
Augmented Reality (AR) home design startup Pair https://www.pair3d.com recently updated their iPhone and iPad application https://itunes.apple.com/us/app/pair-bring-showroom-to-your/id1052515187?mt=8 to solidify the company's design focus to their rapidly expanding user base.
The latest design expands Pair's product line significantly, introducing over 1,500 new sofas, chairs, tables and area rugs. "Our updated design reinforces our core value of bringing the best design and shopping experience to consumers," said Israel Medina, VP of business development. "With more than 2,000 products now, Pair has the largest AR furnishings catalog available. Over the coming months, our catalog will double as we bring on some of the biggest names in home furnishings."
The demand for mobile AR is accelerating with the recent release of the Lenovo Phab 2 Pro phone. Pair's compatibility with the iPhone or iPad alone, sets it apart from other products hitting the market that require stand-alone phones and additional hardware. "We have always been committed to making these amazing experiences available to anyone with a standard smartphone, which is our technical focus and what really differentiates Pair in the field," said Taylor Clark, Pair Chief Technology Officer.
Pair was recently highlighted when the team announced they had joined Batch 17 of the 500 Startups accelerator in Mountain View. "The 500 team is overwhelmingly supportive, and having a core of champions around the platform, and our continuing efforts to revolutionize how humans and computers interact is critical," said CEO Andrew Kemendo.
About Pair: Pair uses proprietary Computer Vision and Augmented Reality technologies, to allow users to drag-and-drop 3D models of consumer furnishings into their home, walk around them as if they are real and purchase directly from the app, using only an iPhone or iPad.