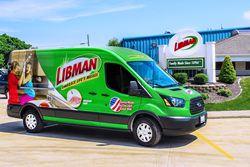 Arcola, Ill. (PRWEB) June 22, 2016
The Libman Company, a U.S. manufacturer of household and commercial cleaning products, wants consumers to know that they don't need to worry about everyday cleaning messes as long as there's a Libman product on hand to help them out. In celebration of its 120th anniversary this year, The Libman Company's "Embrace Life's Messes" tour will travel to 109 retail locations in 14 cities this summer, giving away product and special prizes in order to encourage consumers to embrace life's messes by letting Libman help do the work.
The eight-week "Embrace Life's Messes" tour is an experiential marketing campaign that is an extension of Libman's 2016 television and print ad campaign whose message reminds consumers to "Remember the Moment," even when those moments can create a physical mess. Whether it's baking cookies together or letting the kids dabble in finger paint and glitter, the message Libman wants to communicate is that Libman has consumers covered so they can enjoy the moment rather than fret about the mess.
The Libman "Embrace Life's Messes" tour will kick off in Louisville, Ky. on Thursday, June 23 and end in Chicago on August 18. At the helm of the tour is a team of two individuals serving as Libman brand ambassadors, who will drive the Libman-branded Ford Transit van to store openings, retail locations, local events, and national historic landmarks in 15 states. At the retail stops, shoppers will have the opportunity to see in-store product demos and participate in games to win Libman prizes.
The tour will be documented throughout the eight weeks with blog posts, photos and videos of the duo's adventures on social media sites and on http://www.embracelifesmesses.com. Additionally, Libman will run a 120th Anniversary online sweepstakes – Embrace Life's Messes – over the course of 12 weeks that will give away 120 Libman product prize packages worth $120 each, and culminate with a grand prize that awards $1,200 to one lucky winner. The sweepstakes begins on June 26 and runs through September 17.
The Libman Company started in 1896 with one mission: to make the finest, most durable wire-wound corn brooms. The family left Lithuania for the United States in the 1890s, landed in Chicago, and started life in the New World by peddling sundries from a pushcart, selling everything from brooms to clothes-pins. The old-fashioned corn broom was a top seller.
Today, Libman has a 1.1 million square foot facility located in Central Illinois. With the fourth generation of Libmans who have come on board, they are as committed as their predecessors to providing high-quality, American-made cleaning products including mops, brushes, cleaning tools, and brooms.
About The Libman Company
The Libman Company is a family-owned company that has been making quality cleaning tools since 1896. The company manufactures products from brooms and mops to more specialized tools for kitchen and bathroom cleaning and industrial uses. Libman proudly manufactures most of their products in the United States, including the company's well-known Wonder® Mop. For more information about the Libman Company, please visit http://www.libman.com.
# # #