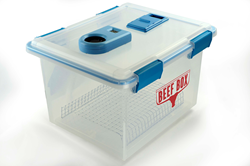 Introducing the Beef Box, a new and innovative solution to aging steak at home.
Chicago, IL (PRWEB) June 23, 2016
GEOMEN LLC is pleased to announce the Beef Box. The Beef Box allows consumers the opportunity to age steak in the comfort of their own home. It can produce steak house quality dry aged steak for a fraction of the price. The Beef Box not only saves money, but also allows the user to customize the flavor profile of the beef for a truly unique experience. The Kickstarter campaign will be the first time the Beef Box is available to the public. Limited early bird specials will be available so don't miss the chance to be a part of the new fast-growing trend of dry aged steaks.
"GEOMEN was founded on the principle of design and engineering working to produce a quality product at a reasonable price." – Jeff George – Co-Founder
The Beef Box is a new and innovative solution to dry aging beef at home. The Beef Box works by replicating a professional dry-aging environment in a standard refrigerator by controlling humidity, optimizing airflow, and regulating temperature. The proprietary control system utilizes a fan and slider mechanism to maintain the optimal dry environment with little to no user input. Simply plug in and enjoy.
Go to our Kickstarter page to become one of the first to own a Beef Box.
GEOMEN LLC was founded in February of 2015. GEOMEN was formed by a team of engineers and an industrial designer. The idea was to make great looking product work great and provide it at an affordable price. GEOMEN focuses on home aging and curing products and will work to become a leader in the industry.
# # #