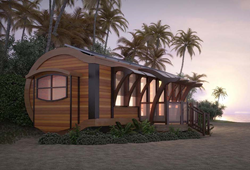 San Francisco, CA, USA (PRWEB) June 21, 2016
Adara Power, a privately-held Silicon Valley company committed to providing safe, reliable, intelligent, and connected energy storage, proudly announces the installation of an 8.6 kWh lithium-ion Adara Energy Storage System in The Arc House – presented by Green Builder Media® and Shelter Dynamics – a factory-built 432 square foot residence that combines the economy and simplicity of tiny house living with cutting-edge building science.
The Arc House will be exhibited at the Pacific Coast Builder Conference at the Moscone Center in San Francisco, CA from June 22-23, 2016. During the event, the Arc House, located outside the convention center, will be powered entirely by energy generated by its solar panels and stored in the Adara Energy Storage System. Adara Power founder and CEO, Neil Maguire, will be on-hand to talk about the company's intelligent, sustainable storage solution.
"When we were selected to participate in The Arc House, we didn't hesitate to commit to the project. We love the idea of being off-grid in downtown San Francisco in a beautifully designed tiny home powered by the sun and our energy storage system. It is a real-life working model for the home building industry and for individuals who have embraced self-sufficiency and sustainability," said Maguire. "Our system delivers years of dedicated, self-supplied power that enables a homeowner to reduce their reliance on the grid and shift to consumption of on-site energy."
Green Builder Media and Shelter Dynamics, in partnership with other sustainable living innovators, brought The Arc House to life. High efficiency appliances, lighting, insulation, and windows reduce the overall electricity demand on the home. On the roof, 10 solar panels feed the loads during the day and recharge the battery that powers the loads through the night.
The Adara Energy Storage System is an intelligent, stackable 8.6kWh lithium-ion battery system designed for safe, reliable, long lasting power management. It is designed, engineered, and manufactured by Adara Power based on their company's years of automotive lithium ion control systems engineering. Each system delivers more than 10 years of operation of dedicated peak shifting, back-up power, energy efficiency, as well as enables participation in emerging interactive energy exchanges. The Adara Energy Storage System is housed in an indoor/outdoor, floor or wall-mounted UL-rated enclosure.
# # #
About Adara Power
Founded in 2013, Adara Power (formerly JuiceBox Energy) is committed to providing safe, reliable, intelligent, and connected solar energy storage for renewable energy. Adara Power's Energy Storage Solutions are designed to support consumer self-consumption and enable a resilient, renewable energy grid in order to power a cleaner, sustainable planet. For more information, visit http://www.adarapower.com and follow us on Twitter: @adarapower.
About the Arc House Project
Green Builder Media and Shelter Dynamics, in partnership with Kitcheneering and Align3D, have teamed up to introduce The Arc House, the latest in Green Builder Media's forward-thinking VISION House® series. This innovative "tiny home" integrates many facets of sustainability into one compelling, compact package, taking the concept to the next level with its unique form, craftsmanship and functionality. For more information, visit http://www.greenbuildermedia.com/vision-house-arc-house.