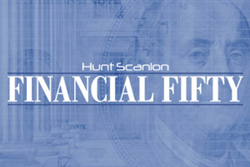 "We are privileged to have ben recognized by Hunt Scanlon sharing a spot among the elite in our industry." --Linda Mack, President and Founder
Chicago, IL (PRWEB) June 23, 2016
Mack International LLC, founded by Linda C. Mack in 2002, has been named one of the top 'Financial Fifty' by Hunt Scanlon's ranking of search firms focused on the financial services sector in the Americas. For over 25 years, Hunt Scanlon has been one of the most widely referenced sources for information in the human capital sector. In their inaugural ranking of firms dedicated to identifying and placing senior talent, Mack International is listed as one of the most well positioned practice leaders in the industry. "We are privileged to have been recognized by Hunt Scanlon sharing a spot among the elite in our industry," said Linda.
'Strategic Hiring and Specialization' was the focus of the rankings for the 'Financial 50.' Addressing the challenge of finding and capturing the best talent for increasingly specialized leadership positions was at the heart of the report. Linda is acutely familiar with what is involved in these highly individualized searches. "We believe it is an important distinction that we are unconflicted in order to serve the Family Office's best interests. Placing the right people into lead roles not only helps the family achieve their business objectives, but strengthens their overall sustainability," said Linda. Hunt Scanlon describes Mack International as "…a boutique firm that specializes in providing executive search and strategic human capital consulting services to family office, wealth management and investment industry clients on a national and international basis…"
According to Hunt Scanlon, the landscape is becoming increasingly competitive with demand for specific talent exceeding supply. Linda describes her role as searching for 'a needle in a haystack' on every assignment. "Every one of our searches is customized. It goes beyond qualifications and skill. To get the right fit for a family, the individual has to meet the culture fit requirements. In our experience, 95% of the equation is the perfect match to the family's culture...and we are relentless until we find it."
Since its inception, leading global media outlets have turned to Hunt Scanlon for global staffing intelligence data. Recent coverage can be found in Crain's, WSJ, Chicago Tribune and The Economist. Hunt Scanlon's team of editors and analysts selected Mack International as one of the firms deemed most prominent in the financial sector.
About Mack International, LLC
Mack International is the premier, boutique retained executive search and strategic management/human capital consulting firm serving national and international clients in the family office, family business enterprise and the wealth management industries on national and international basis. Founded in 2002, the firm has achieved an exceptional track record of success as evidenced by its unmatched industry expertise, in-depth market knowledge and unparalleled track record of success. Founder and President, Linda C. Mack has established proprietary methodologies such as the Mack 360© and is credited for having coined the term "expert generalist" in the industry.