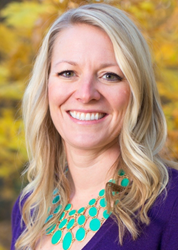 Madison, WI (PRWEB) June 21, 2016
Patients with sensitive teeth due to gum recession in Madison, WI, can now visit Dr. Angela Cotey's practice in Mount Horeb for treatment without a prior referral. Dr. Cotey offers a revolutionary procedure for the treatment of gum recession called the Chao Pinhole® Surgical Technique. Using this technique, Dr. Cotey can gently manipulate the gum tissue to cover more of a tooth's surface area without using sutures or scalpels.
Patients who are worried about the lengthy recovery time and pain associated with gum grafting procedures can now receive the gentle and effective Chao Pinhole® Surgical Technique from Dr. Cotey. Rather than relying on gum grafting procedures to make the gums cover a greater surface are of the teeth, Dr. Cotey carefully creates a very small hole approximately the size of a pinpoint directly in the gum tissue. Once the hole is created, Dr. Cotey is then able to insert a small tool that is designed to help loosen the gum tissue from the teeth in the receded area and push it carefully downward or upward over the tooth's surface. The procedure is fast, minimally painful and quite effective at reducing the pain experienced by those with sensitive teeth due to receded gums.
Once the gums have been carefully manipulated to cover more of the tooth (or teeth) affected by recession, they heal very quickly and with minimal bleeding. Additionally, because there are no sutures involved, patients do not need to worry about the embarrassment and discomfort of large noticeable stitches while they recover from the Chao Pinhole® Surgical Technique procedure.
Dr. Cotey encourages patients with sensitive teeth from gum recession in Madison, WI, to visit her practice in Mount Horeb, WI for the Chao Pinhole® Surgical Technique. New patients are invited to call 608-433-2102 to schedule an appointment.
About the Doctor
Dr. Angela Cotey is a general dentist offering personalized dental care to patients in Mount Horeb, WI. Dr. Cotey and her entire team take pride in offering the latest advancements in dentistry and dental technology to ensure each patient enjoys a comfortable experience with long-lasting results. Dr. Cotey combines advanced dentistry with a fun and friendly style. She is a member of numerous professional organizations including the American Dental Association, the Wisconsin Dental Association, American Academy of Cosmetic Dentistry, Fellow in the Academy of General Dentistry and current President of the Wisconsin Dental Study Club and Madison Dental Progress Forum. To learn more about Dr. Cotey or the services she offers, please visit her website at http://www.villagesmilecare.com or call (608) 433-2102 to schedule an appointment.