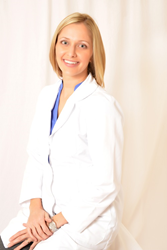 Jacksonville Beach, FL (PRWEB) June 21, 2016
Respected prosthodontist Dr. Kathryn E. Ryan is pleased to announce she is now accepting new patients for cutting-edge laser dentistry treatment, even if they do not have a referral. Using state-of-the-art laser technology, Dr. Ryan is able to offer virtually pain-free treatment of gum disease in Jacksonville Beach, FL, as well as a variety of other procedures. The WaterLase MD™ laser replaces many of the sharp, invasive tools most dental professionals use, reducing or eliminating the painful recovery period typically experienced after oral surgery.
Traditional dental techniques usually require cutting or scraping that results in longer recovery times and an increase risk for infection. Treatments for moderate to severe gum disease in Jacksonville Beach, FL, may involve incisions in the gums when a dentist needs access to the area around the roots of teeth so they can be cleaned and the infection can be removed.
Dr. Ryan believes that oral health treatments should not cause more trauma than the issues themselves. To this end, she has become certified to use the WaterLase MD™ laser as an alternative for the scalpel, drill and other invasive equipment. Laser dentistry involves a highly calibrated beam of light that vaporizes unwanted tissue with extreme precision, so surrounding structures and nerves are not affected. This allows her to perform frenectomies, reshape gums and target gum disease decay with little or no bleeding. In many cases, patients do not need numbing shots to alleviate pain, so more than one section of the mouth can be treated in a single visit.
Those who are interested in the benefits of laser dentistry and the services available at Dr. Ryan's practice can find more information on her website at http://www.parkwaypros.com. New patients can call (866) 902-7710 to schedule an appointment.
About the Doctor
Parkway Prosthodontics is a prosthodontics practice located in Jacksonville, FL. Dr. Kathryn E. Ryan specializes in prosthodontics, esthetic and implant dentistry. She holds a Certificate of Specialty in Prosthodontics and a Master of Science Degree from Marquette University School of Dentistry, and is a Fellowship trained in implant surgery from the University of Florida College of Dentistry. Dr. Ryan is a member of the American Dental Association, International Team for Implantology, Northeast District Dental Association, among others, and participates in the Jacksonville Dental Society Study Club, Beaches Study Club and Jacksonville Women's Dental Society Study Club, to name a few. Dr. Ryan and her team are committed to providing patients with quality care using state- of-the art techniques and equipment. To learn more about Parkway Prosthodontics and the services they offer please visit their website at http://www.parkwaypros.com or call (866) 902-7710 to schedule an appointment.