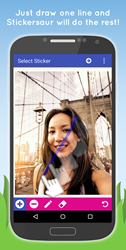 Sticker making has never been easier!
Fulton, MD (PRWEB) June 23, 2016
Fractograf, LLC, the innovative new company that provides mobile applications for photo enhancement, animation, and social media announces the launch of their new mobile app, Stickersaur. Stickersaur, The Quicker Sticker Maker, is now available for free download on Google Play.
Stickersaur, the world's simplest background cutout and digital sticker maker, allows users to pull pieces of images from photos using Fractograf's cutting edge "Magic Swipe" technology. Built for creating stickers quickly and easily, Stickersaur provides a tool for anyone looking to create digital stickers for use in text messaging or other photo editing apps.
"We are thrilled to announce the launch of the new Stickersaur app," says Aaron Altscher, VP of User Growth and Engagement of Fractograf, LLC. "There are countless apps that let you create stickers, but the process is often time-consuming and the results are disappointing. The Stickersaur "Magic Swipe" technology lets anyone make an awesome, high-quality digital sticker with just a single swipe of the finger."
The new Stickersaur app is available as a free download on the Google Play store by visiting
https://play.google.com/store/apps/details?id=com.fractograf.stickersaur,
About Fractograf, LLC
Fractograf, LLC is an innovative company based in Fulton, Maryland that created the new mobile app, Yammo. Fractograf, makes apps that provide an all-in-one digital entertainment experience. Fractograph has also built the mobile app, "Fractograf" available on iTunes. For more information, please visit http://www.stickersaur.com.