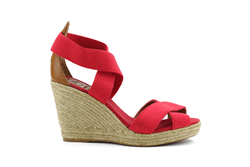 Los Angeles, CA (PRWEB) June 23, 2016
California–based footwear brand, Joy & Mario, launched their summer footwear collection that combines fashion, comfort, and sustainability. Established in Los Angeles, the brand introduces three new collaborations complimenting their current women's collection, which includes sandals, wedges, boots, and more, as well as their latest men's styles, which range from muted, to pop colors. Their well–known Espadrilles, featuring a classic silhouette made from Pylon, a lightweight, flexible and shock absorbent material that replaces the stiff jute sole on traditional espadrilles, remains the brands signature collection because of it's superior comfort and style.
One key collection is collaboration with contemporary American artist, J. Pierce, who's known for his bold use of color and pattern. J.Pierce uses his passion for the fine arts, product design, and custom urban murals to connect with his audience, and his work is collected by celebrities, pro athletes, and collectors in North America, Asia and Europe. In addition to J. Pierce's recent shoe designs for Joy & Mario, which includes 30 styles from five custom designs he created, he's also designed a line of luggage and backpacks for Planet Traveler, as well as socks for Legends Sock Co. and clothing for Liberty Clothing.
Joy & Mario's second collaboration is with a Miami–based artist who currently designs for the brand, Dave L. Dave's preferred medium is painting, and he draws inspiration from the marine bio-diversity of the tropical surroundings in his hometown of Miami, Florida. He's also a fan of the surf and skate lifestyle, which informs much of his work, and is represented in his paintings, allowing him to show his appreciation for the beauty of the natural world. For this collection Dave created five oceanic-inspired designs that the brand will use for 30 different product offerings.
The last collaboration is with the World Wildlife Fund (WWF), a leading conservation organization dedicated to halt the degradation of the environment and combat climate change. Joy & Mario is currently in negotiations to launch a global WWF partnership, and the brand has given a cash donation to support their ongoing work in preserving natural animal habitats. In that same eco-friendly spirit, Joy & Mario products have undergone rigorous testing to ensure all their materials meet or exceed product standards set by the WWF. One of their upcoming products from this collaboration will feature an athletic outsole that's reflective of the brand as an athleisure resource.
About Joy & Mario
Joy & Mario is a socially responsible casual footwear company based in Los Angeles, CA. As a nod to the company's California roots, they offer season-less style athleisure shoes that are casual, comfortable and fashionable. The brand boasts a state of the art manufacturing facility that has ten production lines, and dedicated employees who work on hand stitching and assembling product, helping to ensure that no child labor is used in the manufacturing process, and that only environmentally friendly glues and natural materials are used. The shoes retail for $45 - $100, and can be found at major retailers including Nordstrom, DSW, Dillard's, Steve Madden, Macy's, and Shoes.com, as well as many independent boutiques nationwide. Find more information, or shop styles at http://joyandmario.com.