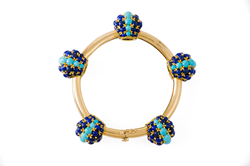 Santa Fe, New Mexico (PRWEB) June 22, 2016
Shiprock Santa Fe Gallery is pleased to announce its latest exhibition: Crossing Cultures: Artist and Fine Jewels from the 1960s and 1970s in partnership with Mahnaz Collection.
In a dialogue with the rich and rooted artistry and colored stones used by southwestern American jewelers, MAHNAZ COLLECTION will showcase mid- twentieth century counterparts in gold and silver: bold vintage design classics from high jewelry houses, artists and independent jewelers from Europe and the Americas.  Jewels from Tiffany, Van Cleef & Arpels, Boucheron, Lalaounis, Andrew Grima, Bjorn Weckstrom, George Jensen, Roberto and Haroldo Burle Marx, Sam Kramer and H. Fred Skaggs, among others, will be exhibited.
MAHNAZ COLLECTION, based in New York City, sells original and refined vintage jewels from around the world, made during the 1940s – 1980s. It also carries highly select contemporary jewelers. The collection showcases strong design ideas, high quality workmanship, often, an evident maker's hand, and a choice vocabulary of stones. The collection is driven by color, especially that of rich and textured yellow gold and colored gemstones. Jewel makers are viewed in their particular cultural context, while the collection recognizes the dialogues that existed in each era among different styles of jewelry: high house, street luxe, fashion, ethnic, tribal, ancient, modernist and minimal.
"Our collaboration was inevitable," says Shiprock Santa Fe Gallery Owner Jed Foutz. "We are both collectors of rarified jewelry, and I think viewing our pieces alongside one another will promote an interesting design dialogue.
Select jewels from MAHNAZ COLLECTION will be available for a first look starting the weekend of July 8. The exhibition-opening event will be held at Shiprock Gallery on July 21, from 5 p.m. to 7 p.m., followed by a conversation with Mahnaz Ispahani Bartos – part of the Shiprock Santa Fe lecture series – on July 23rd at 1 pm.
The full collection of jewelry will be on view and available for sale July 21 – 25, with a selection available through August 24, 2016.
###
About Shiprock Santa Fe:
Shiprock Santa Fe gallery, based in Santa Fe, N.M., is one of the foremost galleries in the United States for Native American art, including vintage and contemporary jewelry, historic textiles, pottery, basketry and artifacts. Celebrating its 10th year on Santa Fe's historic Plaza, the gallery was founded by fifth generation expert Jed Foutz, who was raised on the Navajo Reservation in a family of traders. Foutz has a studied eye and impeccable aesthetic he uses to select the best Native American work, antique and contemporary, making him an important style resource for top fashion houses, designers, filmmakers, and renowned art collectors. Foutz has expanded his family tradition by incorporating Mid-Century Modern furniture in his collection, which, with its fine design, materials and craftsmanship, complements and highlights the beauty and execution of works by known and unknown Native American artists. Foutz's mastery of Santa Fe and Southwestern styles has made Shiprock Santa Fe gallery a necessary stop on any trip to Santa Fe. The gallery's knowledgeable staff is well versed in Native American fine art and provides both acquisition and appraisal services, working with clients looking to acquire a single object or to build corporate or personal collections. For more information, please visit https://www.shiprocksantafe.com/.
About MAHNAZ COLLECTION:
MAHNAZ curates the eponymous collection. Of South Asian and Persian heritage, she was exposed early in life to fine, traditional gold jewelry, enamel work, and gemstones including emeralds, pearls, lapis lazuli, and turquoise. Mahnaz is a citizen of the world, who has travelled extensively, and worked and lived in several cultures. Her love of landscape, design and color in varied geo-cultures informs the way she selects jewels. A scholar by academic training with a Ph.D. in international affairs, Mahnaz is a New Yorker committed to public service, who also calls Santa Fe home.
MAHNAZ COLLECTION is recognized as having a unique ensemble of jewels, high standards of scholarly research, an expert team, and a global network of jewelry professionals. It is sensitive to environmental issues, values cultural diversity and supports charitable giving.
The full range of MAHNAZ COLLECTION jewels is sold by appointment only. An exclusive, curated selection is available at BARNEYS NEW YORK and barneys.com in the United States. You may also purchase a selection @1stdibs.com. 
For further information please visit http://www.mahnazcollection.com.