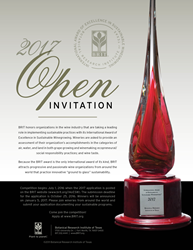 As the only international sustainable winegrowing award of its kind, BRIT honors wine organizations that demonstrate a commitment to the environmental, economic, and social aspects of winegrowing.
Fort Worth, TX (PRWEB) June 22, 2016
Come join the competition! The Botanical Research Institute of Texas announces that its 2017 sustainable winegrowing application is posted on its web site: http://www.brit.org/2017wineaward, and is ready for downloading by wineries wishing to compete in BRIT's 2017 sustainable winegrowing competition.
The award attracts progressive and passionate wine organizations from around the world that are taking a leading role in "ground to glass" sustainable programs. The competition is based on the continual improvement of the three tenets of sustainability - environment, economic, and social - and wine taste.
The competition begins July 1, 2016, and submission deadline is October 25, 2016. The winners will be selected and notified in January 2017. Platinum, gold, silver, and bronze-level medals will be awarded to top-placing wineries.
The competition's overall winner will be presented with BRIT's International Award of Excellence in Sustainable Winegrowing in Fort Worth in March 2017, during the Fort Worth Food and Wine Festival.
The sustainable winegrowing application is comprised of 18 high-level self-assessment questions focusing on the three tenants of sustainability: environmental, social, and economic aspects, plus a nineteenth subjective assessment – wine taste. The judging committee values a balance between all the criteria.
Among the 18 criteria judged are seed selection, agricultural and winemaking protocols for saving water, soil conservation, saving energy, packaging protocols for waste reduction, programs for reducing carbon (CO2) emissions, social responsibility programs, and plans for continual improvement.
Applicants must describe their organization's conservation efforts in the vineyard and in operations: how waste is avoided, how it is reclaimed, and how the winery extends conservation efforts to its customers. They must also detail the practices they have established to maintain environmentally sound, socially responsible, and economically feasible winemaking principles. A bottle of wine must also be provided for a tasting by the judging committee.
New for 2017, international entrants may use their US distributors to forward their wine samples to BRIT or may use BRIT's consignee, La Cigale Wines to clear shipments and provide COLA Waivers. If wishing to use La Cigale Wines, please contact Edward Proctor, La Cigale Wines, at (817) 923-6747 or email, ed(at)lacigalewines(dot)com before shipping.
Previous award recipients include: Buzet (2016), LangeTwins Family Winery and Vineyards (2014), Yalumba (2013), Trefethen Family Vineyards (2012), Parducci Wine Cellars (2011), and HALL Wines (2010).
The 2017 Sustainable Winegrowing application may be downloaded at the BRIT web site: http://www.brit.org/2017wineaward.