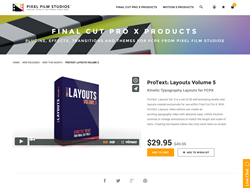 FCPX editors will be able to create eye catching kinetic text layouts with complete control over customization inside of Final Cut Pro X
Aliso Viejo, California (PRWEB) June 23, 2016
"FCPX editors will be able to create eye catching kinetic text layouts with complete control over customization inside of Final Cut Pro X," said Christina Austin - CEO of Pixel Film Studios.
ProText Layouts Vol. 5 includes 30 parallax and depth inspired kinetic text layouts with original designs and animations. Create energetic videos with adjustable Intros and Outros. Stack ProText Layouts Vol. 5 presets to transition from one kinetic text animation to the next. ProText Layouts is the simplest way to create dynamic kinetic typography videos without setting any keyframes.
ProText Layouts Volume 5 can be dropped over pictures, videos, and generators within Final Cut Pro X. To use ProText Layouts Vol. 5 start by placing any supported media into the FCPX timeline. Then choose any of the ProText presets and drop it directly above the media. Adjust the length of the preset to adjust the time that the animation stays on the screen.
ProText Layouts Volume 5 can be easily manipulated with text of any size, scale, and tracking. View the inspector window on the right to find "Intro" and "Outro" animation controls for each preset. Alter the position, rotation and depth of text and elements to achieve any desired look. The possibilities are limitless in FCPX with ProText Layouts Volume 5.
ProText Layouts Vol. 5's presets are loaded with creative Intro and Outro animations. Choose from custom made presets with flipping, scaling, masking, bouncing, sweeping, and rotating animations. Presets include all types of parallax, depth and rotation controls. Both non Motion Blurred and Motion Blurred presets are included. ProTex Layouts Vol.5's unique parallax style adds a distinctive flare to any media.
Established in 2006, Aliso Viejo, California-based Pixel Film Studios is an innovative developer of visual effects tools for the post-production and broadcast community. Their products are integrated with popular non-linear editing and compositing products from Apple FCPX. Apple, the Apple logo, Mac OS X, and Macintosh are registered trademarks of Apple Inc. in the U.S. and/or other countries. All other trademarks and trade names are the property of their respective owners.