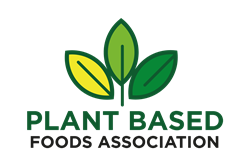 Plant-based food companies are at a competitive disadvantage if consumers don't know the truth about industrial meat production.
San Francisco, California (PRWEB) June 22, 2016
The Plant Based Foods Association has filed a "friend of the court" brief to the Ninth Circuit Court of Appeals arguing for the first time that plant-based food companies are placed at a competitive disadvantage in the marketplace due to Idaho's so-called "ag-gag" law.
In requesting the appeals court to affirm the U.S District Court's ruling that Idaho's Code § 18-7042 is unconstitutional, the association is joining numerous other organizations, journalists, and scholars to overturn this law.
"Idaho's law places our members who make and sell plant-based foods at an unfair economic disadvantage, given the negative effects this law has on consumer access to information in the market place," said the association's Executive Director Michele Simon. "Plant-based food companies are at a competitive disadvantage if consumers don't know the truth about industrial meat production," she added.
"Ag-Gag" is a term used to describe a number of laws that have emerged in numerous states in recent years. The brief argues that these laws impair the ability of journalists, whistle-blowers, and other concerned parties to investigate, document and report concerns in animal production facilities. These concerns often include food safety and health risks, animal welfare problems, worker's rights violations, and other matters of great public interest.
The brief also argues that truthful information about food production is critically important to consumers and competition, and that by severely limiting the available information about food production, the Idaho statute harms consumers and competition.
A coalition seeking to affirm the district court decision to strike down this law includes: Animal Legal Defense Fund, American Civil Liberties Union of Idaho, Center for Food Safety, numerous journalists and other civil rights and environmental organizations. After the briefing is completed, an oral argument date will be set, and the Ninth Circuit's decision could be expected sometime next year.
You can read the entire brief here.
CASE NO. 1:14 -cv-00104-BLW
About the Plant Based Foods Association
The Plant Based Foods Association represents the nation's leading plant-based food companies, including packaged foods, ingredient suppliers, restaurants, meal service providers, and distributors. We educate about the benefits of moving toward a plant-based diet and advocate for better policies to meet the growing consumer demand for plant-based foods. Founded in 2016, its members represent a $3.6 billion market category that supports consumer health and the environment. Learn more at: http://www.plantbasedfoods.org and follow us @growplantbased.
Contact: Michele Simon - Michele(at)plantbasedfoods(dot)org / (510) 465-0322