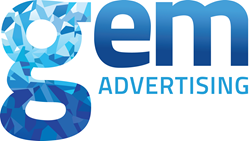 All of us ought to be challenged with giving hope to people; a person like Evelyn represents what can be achieved when you believe and when you're determined to accomplish your dreams, said Chris Bartlett, CEO, GEM Advertising
New Haven, CT (PRWEB) June 22, 2016
This week GEM Advertising was proud to award a deserving Gateway Community College student with the GEM Advertising Entrepreneurial Scholarship. The scholarship was awarded to Evelyn Viera of New Haven, CT, at the Gateway Community College Foundation's Eighth Annual Donor/Scholarship Luncheon. The luncheon was held at the New Haven Lawn Club.
GEM Advertising was honored to have Evelyn as this year's GEM Advertising Entrepreneurial Scholarship recipient. Evelyn is currently enrolled in Gateway's Entrepreneurial Studies program and is a mother, grandmother, and great grand-mother who at one point in her life had her own small business. Unfortunately, she fell on hard times, lost the business and became homeless. It was during this tough period that Evelyn said she never wanted to be hungry again and decided to go back to school and enroll at Gateway Community College to pursue her education. She's been committed to school ever since and today is living in New Haven and thriving at Gateway.
"To lift and support others in their pursuit of bettering their lives is my why; the reason I push out every day to reach my own capabilities. All of us ought to be challenged with giving hope to people; a person like Evelyn represents what can be achieved when you believe and when you're determined to accomplish your dreams," said Chris Bartlett, CEO GEM Advertising.
The foundation awarded over 100 Gateway students with scholarships from such generous donors as First Niagara Bank, Comcast, Yale-New Haven Hospital, AT&T, and Murtha Cullina, LLP.
About GEM Advertising
GEM is a full-service, international, communications and marketing agency. With nine in-house departments, GEM produces and polishes multifaceted branding campaigns that spark love affairs between brands and their customer-advocates. GEM sees the highest potential in their clients and works with a feverish degree of passion and clarity to drive that potential into existence using human and technology resources of the highest integrity. GEM Advertising has offices in New Haven, CT; Vancouver, British Columbia; Boston, MA; and Chicago, IL. To learn more about GEM Advertising, please visit: http://www.GEM-Advertising.com.
About the Gateway Community College Foundation
The Gateway Community College Foundation, Inc., incorporated 1993, is non-profit organization whose sole purpose is to support Gateway Community College and its mission. Its Board of Director is comprised of volunteers from Greater New Haven's business, education, government and health care sectors who generously donate their time and expertise to support Gateway through fundraising, scholarship and other volunteer activities. Money raised by the Foundation funds student scholarships, helps purchase state-of-the-art classroom equipment and materials, and provides professional development opportunities for college educators and personnel. Standing Board of Director Committees include Finance, Scholarship, Nominating, and Resource Development. Visit the GCCF online at http://www.gatewayfdn.org.