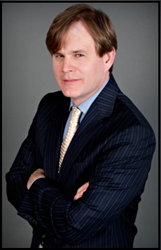 Durham, NC (PRWEB) June 23, 2016
James S. Farrin, president and founder of the Law Offices of James Scott Farrin, spoke at a class on law firm business models at the Duke University School of Law Master of Judicial Studies program in June 2016. He was among four guest instructors invited to the law school, which is ranked #11 nationally the "U.S. News & World Report" Education rankings.
Farrin presented on how a successful personal injury law firm is run, which is a topic he is uniquely familiar with and well recognized for throughout our state. Farrin's business model, which is somewhat unique to most law firms, is something that began percolating in his mind since his own law school days at Duke University, where he graduated with honors.
"While I'd always wanted to do something to help people, I've also always enjoyed studying various business models. As I was drawn more and more into representing individuals in their personal injury cases, I began to see how operating our law firm using certain business principles allowed us to provide better legal services for our clients. I believe using certain business models has not only helped enhance our clients' results and experiences, but also enriched our employees' experiences, too," Farrin said.
The 2016 Master of Judicial Studies Program included a prestigious group of four international judges, six federal judges, nine state judges, and three state Supreme Court justices, one of whom was Cheri Beasley, Associate Justice, Supreme Court of North Carolina, Raleigh.
ABOUT THE LAW OFFICES OF JAMES SCOTT FARRIN
The Law Offices of James Scott Farrin is headquartered in the American Tobacco Historic District, adjacent to the Durham Bulls Athletic Park, in Durham, North Carolina, with 13 additional offices statewide in Charlotte, Fayetteville, Greensboro, Greenville, Goldsboro, Henderson, New Bern, Raleigh, Roanoke Rapids, Rocky Mount, Sanford, Wilson, and Winston-Salem. The firm's 38 attorneys focus on the following practice areas: Personal Injury, Workers' Compensation, Social Security Disability, Eminent Domain, Intellectual Property, Civil Rights, Mass Torts, and Products Liability. Six of the attorneys are North Carolina Board Certified Specialists in Workers' Compensation Law and one is a North Carolina Board Certified Specialist in Social Security Disability Law. The Law Offices of James Scott Farrin is involved in the community, including sponsorship of local philanthropic organizations.