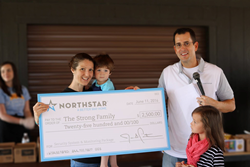 OREM, Utah (PRWEB) June 22, 2016
NorthStar Home and the Autism Resources of Utah County Council (ARUCC) have partnered together to hold an ongoing essay contest that provides home security systems and monitoring free of cost for families with children with autism. The program annually selects up to three families from the pool of applicants to receive a NorthStar home security system equipped with the latest Honeywell technology and NorthStar monitoring services, a package priced at $2,500.
The winners of the contest will receive a complete wireless home security system with door and window sensors, motion detectors, advanced protection logic, two-way voice, and mobile alert capabilities through the NorthStar Connect app. The mobile alerts are among the features NorthStar believes to be the greatest benefit for parents of children with autism because they can provide real-time text alerts when doors or windows open, ensuring additional certainty of their children's whereabouts. The security systems are scheduled to be installed next week.
This is the fourth consecutive year NorthStar has participated in a home security package giveaway of this caliber through the partnership with ARUCC. All families who have children with autism and are associated with the Autism Resources of Utah County Council are eligible for the contest.
###
About NorthStar Home
NorthStar Home is one of the fastest-growing home security and automation companies in North America. Since 2000, NorthStar has been providing families with peace of mind, while staying true to the core values of integrity, accountability, and service. NorthStar is now serving over 50,000 customers nationwide, and has the equipment, relationships, and reputation that you can count on. Visit northstarhome.com for more information.
About Autism Resources of Utah County Council
Established in 2011, ARUCC is a council of parents, organizations and agencies collaborating to create integrated systems of support and treatment for individuals with Autism in Utah County. ARUCC sponsors training symposiums, dinners, and events for the community. For more information visit, arucc.org.