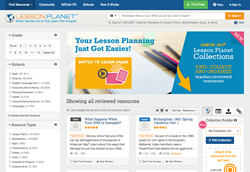 I use collections as a means of organizing my curriculum development, my subjects, my resources, my standards
Santa Barbara, CA (PRWEB) June 24, 2016
Lesson Planet announces its newest open educational resource (OER) planning tool for K-12 educators and schools: Lesson Planet Collections. Collections feature easy drag & drop utility, integrated access to Lesson Planet's industry-leading credentialed teacher reviews, ratings and links to OER, along with the ability to upload original files as well as include videos, images and website URLs.
Collections enable teachers, librarians, curriculum coordinators and technology specialists to do the following:

curate high quality digital content to differentiate instruction;
publish and share collections on Lesson Planet and beyond;
remix and republish collections to collaborate and individualize learning.
"I use collections as a means of organizing my curriculum development, my subjects, my resources, my standards," noted David Conover, a recent finalist in the White House Champions of Change awards and Lesson Planet member who teaches computer science and video game design to at-risk high schoolers in north Austin, Texas. "It's a great way of visualizing design thinking as an organizational workflow."
Project Tomorrow's Speak Up 2015 survey shows that teachers' use of digital content increased from 2012 to 2015.

74% increase in teachers who use digital content
45% increase in teachers who use videos they found online in class
Out of 1000 US teachers surveyed by TES Connect in January and February of 2016, 73% report using OER more than textbooks. Combine that usage with the volume of OER available, and not only is access to vetted content critical, tools to easily curate, manage, customize and collaborate with OER are increasingly essential for practicing K-12 educators.
"What's most exciting for us is how quickly our teacher members started building collections," explained Jim Hurley, Lesson Planet Founder and CEO. "Within a month of the beta release, teachers created thousands of new collections with no training in how to use the tools. It's that intuitive, and it's meeting an urgent need for teachers to find and organize vetted, standards-aligned OER."
The 2015 Speak Up survey, released in May 2016, also confirmed school leaders recognize the value of OER and digital content in instruction.

64% of principals want new teachers to know how to source, evaluate and use digital content within instruction.
60% of principals say digital content increases relevance and quality of instruction materials.
80% of principals say digital content increases student engagement.
82% of district administrators say their districts have implemented digital content and online resources in classrooms.
Lesson Planet Collections earned finalist recognition in both the 2016 SIIA CODiE award for best content curation platform and the EdTech Digest 2016 Cool Tool awards.
About Lesson Planet
Lesson Planet provides award-winning open educational resource (OER) curriculum review, search, curation, planning, sharing and collaboration tools to K-12 educators, librarians, curriculum coordinators, technology specialists and homeschooling parents, enabling them to find expert-teacher ratings, reviews and links to OER targeted by grade, subject, Common Core State Standards, Next Generation Science Standards and more. By-hand curation and evaluation of OER by experienced, credentialed educators according to a 144-point rubric, along with tools that are intuitive and sensitive to the needs of practicing teachers, make Lesson Planet uniquely able to connect educators with the high quality resources they need most, in the least amount of time. Educators can then organize, manage, share and remix curriculum collections to improve instruction and support diverse student learning needs. Founded by educators in 1999, Lesson Planet is proud to be entirely membership-supported, and the OER tool of choice for a number of schools and districts.
#####
Media contact:
Judith Smith-Meyer, Manager, Product Communications
Email: press(at)lessonplanet(dot)com
Phone (805) 899-4966, x7140
http://www.lessonplanet.com