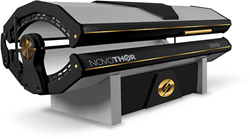 Diet and exercise are only two pieces of the total-health puzzle - recovery is the third.
Dallas, TX (PRWEB) June 23, 2016
CryoUSA Solutions℠, the world's leader in providing whole body cryotherapy and a Proud Partner of the Dallas Cowboys™, is pleased to have been showcased by Good Morning Texas on WFAA/ABC TV.
"We were thrilled to welcome Good Morning Texas into our CryoUSA Active Recovery Center in Dallas," said Mark Murdock, Managing Partner at CryoUSA. "In addition to showcasing the powerful effects of whole body cryotherapy, we were able to bring media exposure to our new NovoTHOR whole body light pod, the only one in Texas."
The NovoTHOR Whole Body Light Pod, which received the award for Innovation of the Year at the 2016 Elite Sports Performance Expo in London on June 16th, is the world's first and only whole body Photobiomodulation Therapy (PBM Therapy) unit. PBM Therapy, previously known as Low-Level Laser Therapy, is the application of red and near-infrared light to tissue where there is degeneration or injury, to improve, repair, and reduce inflammation and pain. This is achieved via PBM Therapy's ability to reduce oxidative stress which is accepted as the underlying trigger for most diseases and degenerative conditions. Oxidative stress is also a component in the inflammatory phase of acute and chronic injuries.
Whole body cryotherapy, thanks to the efforts of the team at CryoUSA, has taken the country by storm. Everyone from professional athletes with the NFL, NBA, MLB, and NASCAR just to name a few, to celebrities, weekend warriors and soccer moms have now benefited from whole body cryotherapy with CryoUSA. During a 2 to 3-minute session at -240F, blood is forced away from the peripheral tissues and towards the core, where the body's natural filtration system works to remove toxins and inflammatory properties of blood. After exiting the cryotherapy chamber, filtered blood flows back to the peripheral tissues and the process of restoration begins - returning the body to a former and better state or condition with reduced pain and inflammation, and increased energy levels.
"Our entire reason for existence is to help educate as many people as possible that diet and exercise are only two pieces of the total-health puzzle," added Mark. "Recovery is the third piece - and for those that understand and incorporate our recovery protocols in their lives - they find themselves feeling better and recovering much faster."
About CryoUSA Solutions
CryoUSA Solutions is the established world leader in cryotherapy and recovery, providing unmatched expertise to numerous sports organizations. We are a Proud Partner of the Dallas Cowboys, SMU Athletics, and the Official Cryotherapy Provider of the Oregon Project at Nike and the Dallas Mavericks. Nine other NBA teams, Joe Gibbs Racing, and other NCAA teams have chosen CryoUSA Solutions as their cryotherapy equipment provider as well. In addition, we provide cryotherapy to athletes from USA Triathlon, USA Track and Field, MLB, UFC, the NHL and many others. Having installed over 160 cryotherapy units and helped start over 100 independent cryotherapy businesses nationwide, the experienced team members at CryoUSA Solutions are the go-to specialists in the recovery industry. To learn more about whole body cryotherapy and additional recovery modalities, visit http://www.CryoUSAsolutions.com.