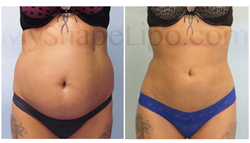 Las Vegas, NV (PRWEB) June 23, 2016
On Monday, June 20, 2016, Trevor Schmidt PA-C, the liposuction specialist and owner at MyShape Lipo, shares his extensive experience using Smart Lipo laser skin tightening to help his patients avoid tummy tucks. Schmidt has performed thousands of procedures using this technology and says that nearly 60% of his patients choose to use it to tighten their skin.
Smart Lipo is a powerful laser manufactured by Cynosure who is a world leader in light based systems. Their products are used by professionals in the aesthetic and medical markets in over 60 countries.
"I've used Smart Lipo for over 8 years now," says Schmidt during his interview. "We've seen amazing results, but most importantly, our patients are very happy with their results."
Smart Lipo works by passing a laser through a thin cannula and passed just under the skin. The laser fires a light at 1440 wavelength, which has been shown to coagulate blood vessels and stimulate collagen growth for up to 6 months following the procedure. The increased collagen will leave the patient with thicker and tighter skin. From a single treatment, one will continue to see improvements for a maximum benefit of 6 months.
"Our patients use Smart Lipo on nearly every part of the body, but the more common areas include the abdomen, chin, arms and thighs," says Schmidt. "It's a great options for those that are concerned about looseness of the skin following liposuction."
After pregnancies, many women have loose skin and excess fat in their belly. Most plastic surgeons would recommend a tummy tuck for these women, however, this is a very invasive procedure that leaves them with large scars and a long, painful recovery. Because of this, there are a lot of women looking to avoid the tummy tuck, opting instead for liposuction.
When choosing liposuction, it's important to understand the limitations and the advantages to assure the right decision is made. With liposuction a large volume of fat can be removed to make the areas substantially smaller as the bulk of the fat is removed. In reducing volume, the skin will retract back, but it is limited.
Each individuals body has different potential to tighten the skin naturally. Some will tighten up more than others. To improve your chances of getting as much as 50% more skin tightening, the use of the Smart Lipo Laser is recommended.
Dr. Abbas Chamsuddin recently presented a study to find that there is approximately 50% more skin tightening with the use of laser versus traditional liposuction. The study titled "Laser Liposuction may zap fat without skin sag," was presented at the Society of Interventional Radiology in New Orleans.
"Upwards of 95% of our patients considering a tummy tuck, but choose to go with liposuction first, never actually go on to get a tummy tuck," claims Schmidt. "Most of them are very happy with the amount of skin retraction they get through the use of Smart Lipo."
About MyShape Lipo
MyShape Lipo is a liposuction specialty clinic located in Las Vegas, NV. Their owner and liposuction specialist, Trevor Schmidt PA-C, has the experience of performing over 15,000 liposuction procedures on all shapes and sizes of individuals. Patients travel from around the country to take advantage of their affordable rates and extensive experience. They offer complimentary "Body Shape Analysis," in person for locals or over the phone with pictures for those coming from out of state. Call today, 702-818-5476.