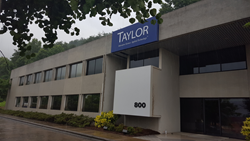 Today is an important strategic milestone for W.F. Taylor as the decision to move our corporate headquarters to Dalton reconfirms our commitment to the flooring industry. -- Dan Pelton, CEO of W.F. Taylor
Dalton, Ga. (PRWEB) June 22, 2016
W.F. Taylor, LLC (Taylor), an industry leader in the adhesives and coatings markets, today announced the company has relocated its corporate headquarters from Fontana, Calif. to Dalton, Ga. Taylor, which has executed a long-term lease for a new corporate headquarters at 800 College Drive, will continue to operate its manufacturing facility in Fontana, but the move will bring 10 management and operation jobs to the new Dalton corporate office, effective immediately.
"Today is an important strategic milestone for W.F. Taylor as the decision to move our corporate headquarters to Dalton reconfirms our commitment to the flooring industry," said Dan Pelton, CEO of W.F. Taylor. "W.F. Taylor prides itself on being a leader of innovative, environmentally friendly adhesive products, and given that Dalton is the center of the floor covering industry, it is the perfect place for us to continue to drive our strategic growth and product innovation for years to come."
W.F. Taylor was founded in 1977 by a well-respected chemist, Wallace F. Taylor. Over the years, the company has established itself as an environmental pioneer in developing new technologies that enabled the company to offer superior products for the flooring industry. Today, Taylor continues to build upon its legacy of progressive environmental practices and product innovations that has made the company one of the leading manufacturers of floor covering adhesives and floor preparation products.
"We are thrilled that W.F. Taylor has chosen Dalton for their corporate headquarters," said Rob Bradham, president & CEO of the Greater Dalton Chamber of Commerce. "Dalton is home to the carpet and floor covering industries, and I am excited to welcome this well-respected company as the latest addition to Dalton's growing business community."
Despite moving its corporate headquarters to Dalton, company officials confirmed W.F. Taylor will continue to operate its manufacturing facility in Fontana and provide adhesives and floor preparation products to customers in all distribution channels.
Pelton continued, "While we are truly excited about our future in Dalton, Taylor remains committed to maintaining manufacturing facilities on the East Coast and West Coast as it gives Taylor a strategic advantage in the market and ensures the company keeps its unparalleled ability to deliver innovative products that meet the needs of our customers across the U.S. and abroad."
# # #
About W.F. Taylor, LLC
Since the 1980s, designing for the environment has been part of W.F. Taylor's innovative fabric. Taylor's Research and Development Team design the highest performing flooring adhesives in the industry with the environment, health and safety in mind. With over half of its products independently tested and awarded environmental certifications, W.F. Taylor has led the flooring adhesive industry in progressive environmental practices. For more information, visit http://www.wftaylor.com.
About Dominus Capital, L.P.
Dominus is a leading middle-market private equity partnership with an operating focus. Drawing on the experience, knowledge and network of its founders and a team of in-house operating executives, Dominus works hand-in-hand with exceptional management teams to unlock the untapped potential of its portfolio companies. The Dominus team members have executed over 50 transactions in the middle market over the past 20 years. Dominus takes a long-term and conservative approach to investing and is proud to have a very consistent and successful track record of creating significant value at businesses in which it has invested. For more information, visit http://www.dominuscap.com.