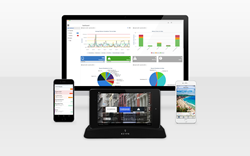 "Our goal is to give limited-service operators a mobile-first solution for guest services and management that they can bring to scale," -- Nizar Allibhoy, CEO of KEYPR.
New Orleans, LA (PRWEB) June 22, 2016
KEYPR is proud to announce the launch of their new "Select" program which brings the KEYPR platform for mobile-based guest services and management to limited and select-service hotels with no associated upfront costs. A platform started by industry veterans that is rolling out to 200+ properties under contract, KEYPR is a fully integrated solution comprised of a mobile app, an in-room tablet, back-office management software, and the option of adding keyless entry. KEYPR gives guests one-touch services and operators and staff real-time access to guest requests and personal preferences. The launch of KEYPR Select follows successful pilot programs at Holiday Inn Express Walnut Creek, and Best Western Plus Avita Suites.
How KEYPR Select Brings Service to the Next Level
Through in-room tablets and customized mobile apps, KEYPR Select opens up full-service amenities and concierge services to guests frequenting limited-service properties. Many of these services can be enabled by operators through new or existing partnerships with local or national service providers such as OpenTable, GrubHub, Postmates, and others. Guests can access their reservations in advance of check-in, request services like extra towels and pillows prior to check-in and/or while off premises, order room service via third party apps, and more.
KEYPR's Guest Experience Management System (GEMS™) provides operators with detailed analytics, allowing them to track service and response times, and use in-depth reports to improve overall service and operational efficiency.
"When it comes to operational efficiency we are always looking at tools that could solve problems for us today but also in the future," said Mike Patel of Best Western Plus Avita Suites. "KEYPR Select was just the tool to do that as it offers the ability to consolidate all paper materials and compendium to a tablet as well as allow us to edit and change any information needed in the future. We have been able to gain valuable insight into our guest's experience and at the same time offer them the most cutting-edge technology."
KEYPR's in-room tablets localize the guest experience, offering one-touch access to the neighborhood and its offerings. Guests can easily find local restaraunts, access reviews, order room service via third party apps like Postmates and access their own entertainment apps like Netflix, HBO GO and Pandora, offerings typically not available for limited-service stays.
"Our goal is to give limited-service operators a mobile-first solution for guest services and management that they can bring to scale," said Nizar Allibhoy, CEO of KEYPR. "After rigorous refinement during our pilot program, we believe we have the solution that so many operators have been asking for. KEYPR Select creates new efficiencies and new revenue opportunities in a highly competitive market."
KEYPR Select is currently deployed at Best Western Plus Avita Suites Torrance/Redondo Beach, and several other West Coast properties. KEYPR is currently at HITEC 2016 as an official Supporter.
ABOUT KEYPR™: KEYPR is a cloud-based guest experience and management solution for hotels and luxury residences. With more than 200 properties currently under contract, KEYPR delivers a hyper-personalized, friction-free experience while creating new revenue opportunities and operational efficiencies for hotels. Guests can personalize their entertainment experience and access a directory of hotel services on-premises through an in-room tablet or the KEYPR app. Hotel operators and residence managers enjoy an integrated dashboard that gives them visibility into guest needs throughout their stay; the ability to offer targeted services to high-value guests and the ease of monitoring operational KPIs across multiple properties. KEYPR's team is comprised of Silicon Valley insiders and former executives from Hilton, Sony and Westmont Hospitality. Its industry partnerships include integrations with Opera, OpenHotel, WebRezPro and other PMS Providers. It has been featured in Hotel News and Next Big Thing. For more information, visit: keypr.com.