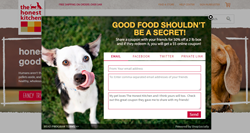 ShopSocially has helped us to spread the word about our unique and healthy product through customers who already know and love us, to a wider group of pet owners. - Kate Fenner, Digital and Ecommerce Manager at The Honest Kitchen
Santa Clara, CA (PRWEB) June 22, 2016
ShopSocially confirmed today its Refer-a-Friend app has substantially boosted the conversion of The Honest Kitchen's site traffic into customers. 14% of site visitors, who discovered the referral campaign on their website, referred the brand to their friends. The resulting referral traffic converted at 2X higher than normal for their online store.
With $21.26 billion worth of pet food purchased in the United States each year, The Honest Kitchen has captured a significant slice of the market with its super-niche 100% human grade collection of highest quality grain free and whole grain foods, treats, and supplements for cats and dogs. ShopSocially's referral program empowers The Honest Kitchen to engage and incentivize the site visitors and reap results in the form of incremental referral sales and new customer acquisition. They often see customers coming back for multiple purchases or looking to buy their product in brick & mortar stores. As a result, the lifetime value of a newly acquired customer through the referral program is far more than just the first purchase from the website.
The Honest Kitchen is running a selection of clever pre and post purchase refer-a-friend campaigns to reward visitors. At the pre-sale stage, site visitors can click on a call-to-action on the website to receive $5 off and are given the option to also refer their friends. Taking advantage of excitement after a purchase and the attractiveness of an incentive, customers have the option of sharing a $20 coupon with a pet-owning friend. The strategic placement of ShopSocially's app also resulted in a high interaction rate with 14% of website visitors exposed to the Refer-a-Friend tool taking the next step of referring their friends and families. Friends and family acquired via the referral strategy converted at an impressive rate on The Honest Kitchen website. ShopSocially's app helped The Honest Kitchen not only leverage its existing customer base but also acquire new customers who converted 2X higher than the normal on its online store.
"As a company, we have worked hard to make a superior human grade pet food that stands out against traditional processed kibble. What ShopSocially has helped us to do is spread the word about our unique and healthy product through customers who already know and love us, to a wider group of pet owners", said, Kate Fenner, Digital and eCommerce Manager at The Honest Kitchen. "Our relationship with the company and refer-a-friend is helping us educate more pet owning families across America on the health benefits of minimally processed foods and hopefully entice them to try a sample for their four-legged family member."
The referral marketing solution offers groundbreaking online incentivization to companies like The Honest Kitchen driving viral recommendations for the brand from people whom the customers already know, whether family, friends, work colleagues or social media connections. This is all achieved in a customizable way seamlessly integrating with an existing corporate identity. Businesses also automatically enjoy the benefits of ShopSocially's vigorous A/B testing modes to ensure maximum effectiveness.
"We are proud of our alignment with The Honest Kitchen and being instrumental in driving value for their customers and their business," explained, Samir Palnitkar, President at ShopSocially. "This clearly demonstrated the capabilities of refer-a-friend application in driving high quality traffic and word-of-mouth recommendations to a brand."
About The Honest Kitchen:
The Honest Kitchen was established in 2002 to bring the first human grade standards to the American pet food industry. Several major awards later, the company remains committed to improving pet health with natural and sustainable methods and has been featured across major global media on television and in print. View 1,256 customer testimonials on their website: http://www.thehonestkitchen.com/
About ShopSocially:
ShopSocially is a SaaS-based, social, referral and loyalty marketing platform that delivers up to 40% more revenue by enabling an increase in new customer acquisition, engagement, conversion rate and retention. More than 500 global brands are using ShopSocially to grow their business via proven strategies such as referral marketing, visual commerce, customer loyalty, social login, social gamification, customer Q&A and more.
ShopSocially platform offers a comprehensive suite of marketing solutions which eliminates the need to implement multiple, inconsistent solutions and delivers a measurable ROI. Our fully managed service option ensures no additional work for your marketing or IT team.
ShopSocially has won several awards and recognition's for its innovative technology. To learn more how ShopSocially can help grow your business, please contact us at (650) 701-7759 or at http://www.ShopSocially.com