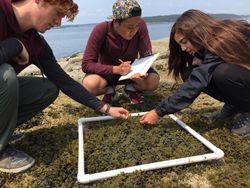 "We've been empowering people to better steward the planet through field research expeditions for 45 years," Earthwatch CEO Scott Kania said.
LOS ANGELES / BOSTON (PRWEB) June 22, 2016
VIDEOS AND PHOTOS AVAILABLE
Seventy high school sophomores and juniors from Los Angeles County are embarking this summer on field research expeditions where they will help scientists tackle critical conservation challenges around the United States. They join the ranks of more than 1,400 students who have been awarded Ignite fellowships since the inception of a partnership in 1990 between Earthwatch Institute and the LA-based Durfee Foundation.
"The experience made me realize that I am capable of doing so much more than I thought I was," said Nataly Casillas, a former Ignite Fellow. "It made me grow as a person physically, mentally, and emotionally as I realized that there is a whole other world within our reach that we can learn about."
This year's students will spend two weeks working as research assistants for leading scientists studying intertidal communities in Maine, climate change and caterpillars in Nevada and Florida, Whooping Cranes and their habitats on the Gulf Coast of Texas, nesting behaviors of owls in Utah and Arizona, ancient ancestral Pueblo communities in Colorado, and salt marsh reconstruction in New England.
"We've been empowering people to better steward the planet through field research expeditions for 45 years," Earthwatch CEO Scott Kania said. "Students in particular have a critical role to play as the environmental stewards and decision-makers of tomorrow."
Michael Newkirk, Vice President of Durfee's Board of Trustees and co-founder of the Ignite Program, echoes these sentiments. "What we've seen over the years is how the program has the ability to change the life trajectory of these students – over just a couple of weeks – and it really plants the seeds for new possibilities."
Each year, Earthwatch reviews hundreds of applications from students who are interested in immersing themselves in scientific field research, whittling down to 70 fellows. The Ignite program aims to stimulate students' curiosity and interest in science by empowering them to tackle environmental challenges alongside leading scientists through a fully-funded, two-week scientific research expedition.
In addition to the cohort of 70 students, the Ignite program will also send ten high school science teachers from schools in LA County on an expedition to help scientists understand how climate change is affecting the Arctic. This program allows teachers to gain first-hand experience in the field and learn about best practices in science education directly from researchers – lessons they bring home with them and implement in the classroom.
The schools represented by this year's student and teacher fellows include (in alphabetical order):
Academic Leadership Community, Alexander Hamilton High School, Alhambra High School, Alliance Leichtman-Levine Family Foundation Environmental Science High School, Arcadia High School, Bell Gardens High School, Bell Senior High School, Benjamin Franklin High School, California Academy of Mathematics and Science, Cerritos High School, Chaminade College Preparatory High School, Culver City High School, Da Vinci Science High School, Diego Rivera Learning Complex, Dominquez High School, Downey High School, Downtown Magnets High School, Esteban E. Torres High School, Etiwanda High School, Fairfax Senior High School, Felicitas and Gonzalo Mendez High School, Foshay Learning Center, Gertz Ressler High School, Harbor Teacher Preparation Academy, Hawthorne Math and Science Academy, Helen Bernstein High School, Humanitas Academy of Art and Technology at Esteban E. Torres High School, iLEAD North Hollywood, Lennox Mathematics Science & Technology Academy, Los Angeles Academy of Arts and Enterprise, Mark Keppel High School, Miguel Contreras Learning Complex School of Business and Tourism, Milken Community Schools, New Village Girls Academy, North Hollywood High School, North Hollywood High School Zoo Magnet, North Hollywood Highly Gifted Magnet High School, Oakwood School, Palisades Charter High School, Palos Verdes High School, Palos Verdes Peninsula High School, Paramount High School Senior Campus, Port of Los Angeles High School, Quartz Hill High School, Renaissance Arts Academy, San Pedro High School, Santa Monica High School, Sherman Oaks Center for Enriched Studies, South Gate High School, Sylmar High School-Math and Science Magnet, Synergy Quantum Academy, Temple City High School, University Senior High School, Valencia High School, Valley Academy of Arts and Sciences, Venice Senior High School, West Adams Preparatory High School
###
Earthwatch Institute (earthwatch.org) is an international nonprofit organization that connects citizens with scientists to improve the health and sustainability of the planet. Since its founding in 1971, Earthwatch has empowered nearly 100,000 volunteers from all walks of life to join leading scientists on field research expeditions that tackle critical environmental challenges around the globe – from climate change to ocean health, human-wildlife conflict, and more. Earthwatch works with all sectors of society, from corporations to teachers, students, community leaders, zoos and aquaria, and more.
The Durfee Foundation (durfee.org) is a family foundation supporting individuals and organizations in Los Angeles County. The Foundation is named in honor of the late Dorothy Durfee Avery who, with her husband, the late R. Stanton Avery, established it in 1960. Since that time, the Foundation has awarded more than $35 million in grants.