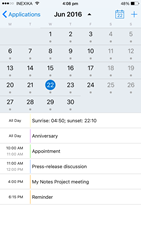 There is no need in any special IT knowledge for users... All that users should know is that they have Lotus Notes, and this means that they can use their Notes applications on their mobile phones with My Notes.
(PRWEB) June 28, 2016
Inexika has released My Notes 3.1 for iPhone – now this mobile solution for instant online access to IBM Notes standard applications has full-scale Calendar support.
In addition to already implemented calendar support for Android devices, the calendar support for iPhone has been added, as well as some other new functionality, such as 3DTouch and possibility to attach most types of files to newly created entries directly from other apps.
"My Notes users with iOS devices were waiting for calendar support," comments Sergey Temnikov, Inexika's CEO. "So the development was finished as quickly as possible. To provide a quality solution, a lot of testing was performed before release."
My Notes features innovative approach which requires just scanning a QR code from user's desktop computer to connect to Notes data and work with it from virtually any place.
There is no need in any special IT knowledge for users – all that users should know is that they have Lotus Notes, and this means that they can use their Notes applications on their mobile phones with My Notes.
Instead of a traditional client-server approach, when multiple mobile devices connect to the same server, My Notes connects to user's desktop via a cloud of servers distributed over the world. This helps to provide the highest connection speeds, as the closest server is chosen based on user's location.
At the same time, Inexika emphasizes full security of this solution. All traffic between device and desktop is strongly encrypted, and even My Notes Cloud servers cannot decrypt such data. Servers in the cloud are used for transit only, not storing any data, hence leaving no chance to steel or recover any information. To dispel any doubts, Inexika published the source code of My Notes service in the open-source community. Moreover, organizations willing to keep their data within their infrastructure may even deploy My Notes service on-premise from the GitHub.
While IBM already offers its own solution Notes Traveler for instant access to Notes data, it requires at least release 8 of IBM Domino server and can be deployed and maintained by system administrators only. Millions of Notes users who could not use Traveler due to older Notes version or reluctant IT staff now have a very convenient and cost-effective alternative for organizing their mobile workplace.
"Helping users who cannot use Traveler was important, but definitely not the only goal," Sergey Temnikov continues. "Main target was a feature reach and familiar mobile workspace for any IBM Notes users, especially those who are lucky to have the latest Notes versions. Not bound by standard protocols, like ActiveSync, Inexika is offering special Notes-specific features so much adopted by Lotus community. Who could imagine use of several shared mailboxes, public address books or Notebooks in addition to personal ones using Traveler? Now it's possible with My Notes. Another good example is full-text search across mail file on a server, as opposed to only the messages downloaded to a mobile device. These features extend mobile collaboration opportunities far beyond personal information management."
Inexika plans to enrich the solution with more Notes databases, such as Discussion / Forum, Document Library, TeamRoom and To Do's, etc.
Available free of charge on App Store and Google Play, My Notes does not have any limitations or ads, and is fully functional when a mobile device is connected to a user's computer with IBM Notes client installed over a local Wi-Fi network. In-app subscription purchase is required to connect over the Internet connection, such as a cellular network or an external Wi-Fi hotspot, using My Notes cloud.
About Inexika Inc.
Inexika is one of the leading providers of synchronization and integration solutions for IBM Notes platform. Its most popular solution called AweSync designed to synchronize IBM Notes and Google Calendar, Contacts, Tasks and Notebook became a best-seller in its class, gaining registered users in more than 90 countries since 2009.