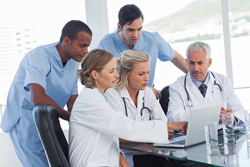 "Hayes creates new and relevant healthcare reports, articles, and more every day for our clients."
Lansdale, PA (PRWEB) June 22, 2016
Hayes, Inc., a leading provider of unbiased health technology assessments and consulting services, is inviting visitors to explore their newly redesigned corporate website, http://www.hayesinc.com. The revamped website has been developed to allow users to find educational resources and health technology assessment reports easily.
"Hayes creates new and relevant healthcare reports, articles, and more every day for our clients," stated Jim Hollis, Director of Marketing at Hayes, Inc. "We wanted to ensure that public users of our new website can easily find the content they need as well. This was the main goal of our new website. Plus, users will enjoy a clean, modern design, providing a very user-friendly experience."
The website includes a Publications section where users can explore the different types of reports Hayes offers clients to address their challenges. Anyone can search the expansive Hayes database for drugs, procedures, or other technologies, and see a preview of the content Hayes provides. The Resource section of the new site offers many different types of educational resources such as eBooks, white papers, webinars, and more. Here, any healthcare practitioner can access accredited CME/CE activities developed by Hayes for the Agency for Healthcare Research and Quality. In addition to the Hayes News Service, the website includes a newly designed blog that will be updated often with healthcare industry news related to evidence-based medicine. Visitors can stay informed of new blog articles by easily subscribing and managing the frequency of updates to their inbox.
ABOUT HAYES
Hayes, Inc., an internationally recognized leader in health technology research and consulting, is dedicated to the delivery of high-quality healthcare and improved outcomes through the integration of evidence into decision making and policy development. The unbiased information and comparative effectiveness analyses we provide enable evidence-based decisions about acquiring, managing, and paying for health technologies. Our worldwide clients include hospitals, healthcare systems, government agencies, health plans, and employers.
For more information about Hayes, Inc., visit http://www.hayesinc.com. Follow us on Twitter, LinkedIn, and Facebook.