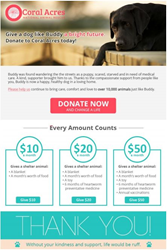 6 out of 10 donors that gave last year won't give this year. Monthly giving programs will help improve donor retention.
Horsham, PA (PRWEB) June 22, 2016
DonorPerfect Fundraising Software released The Monthly Giving Marketing Kit to help nonprofit organizations grow their monthly giving programs by gaining and retaining monthly donors.
In this follow-up to The Monthly Giving Starter Kit, fundraising expert Erica Waasdorp delves into the many aspects of marketing a monthly giving program in a way that's accessible to a budding development staff yet valuable to a seasoned director.
The e-book begins with basics, walking readers through the first steps to building a solid foundation for their nonprofit organization's marketing efforts. Topics covered include crafting a story, developing a communication plan, and establishing a budget.
Readers also learn the anatomy of a successful monthly giving ask through simple bulleted lists and colorful graphics that demonstrate the impact that placement, word choice, and delivery method can have on turning one-time donors into loyal monthly supporters.
The Monthly Giving Marketing Kit also explores the "how much" factor of monthly giving. Every amount counts, but it's important to know which amount will most likely resonate. This insightful e-book recommends tried-and-true formulas that result in new signups and current monthly gift increases.
Focusing on the value of strategic messaging, this e-book concludes by providing a thorough breakdown of best practices for each communication method, from email and social media to direct mail and telephone. Each channel is coupled with detailed information explaining why it's important and how it can be best used to benefit a monthly giving program.
The Monthly Giving Marketing Kit is a must-read for any nonprofit organization in the early stages of developing a monthly giving program or looking to give their current monthly giving program a significant boost. Free copies are available online.