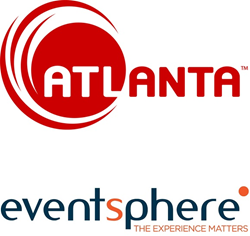 "What sets Atlanta apart from other destinations is our collaborative hospitality community. Our relationship with EventSphere is the perfect example of this." - Mark Vaughan, ACVB Executive Vice President and Chief Sales Officer
Atlanta, GA (PRWEB) June 22, 2016
The Atlanta Convention & Visitors Bureau has renewed its relationship with EventSphere, a national meetings and events firm based in Atlanta, to fulfill housing needs for events coming to the city who use "bureau housing" to book hotel rooms. EventSphere has worked with the ACVB for the past four years, booking more than 15 events annually over that time.
"In a city with nearly 95,000 hotel rooms, meeting planners frequently turn to the ACVB to assist with making housing arrangements for their attendees and their families," said Todd Lambert, CEO of EventSphere. "Being the ACVB's partner for another three years speaks highly of the bureau's confidence in us and our ever-improving technology and personal service."
Many conventions contract with meeting-and event-planning professional firms to handle various aspects of their meetings, including hotel bookings, transportation, family activities and registration. Additionally, they turn to the ACVB for guidance to manage all aspects of their meetings.
"What sets Atlanta apart from other destinations is our collaborative hospitality community," said Mark Vaughan, executive vice president and chief sales officer, Atlanta Convention & Visitors Bureau. "Our relationship with EventSphere is the perfect example of this and we look forward to continuing this valuable partnership."
As one of the nation's most popular destinations for meetings and conventions, Atlanta has more than 10,000 hotel rooms in the downtown area within walking distance of the Georgia World Congress Center, the Georgia Dome and Centennial Olympic Park. EventSphere staff maintains personal communications and relationships with the hotel community and meeting planners, serving as a resource for a broad range of convention services.
About EventSphere
Founded in 2010 by industry veterans, EventSphere specializes in delivering state-of-the-art travel and reservation administration in the meeting and events industry. Services include site selection, hotel contracting and concession negotiating; event management; marketing and advertising services; onsite fulfillment and VIP program services; and attrition management.
The staff at EventSphere works to understand each client's needs and craft effective programs and solutions to streamline the meeting planning and organization process.
EventSphere is headquartered in Atlanta and serves clients across the country and internationally. For more information about EventSphere, visit http://www.eventsphere.com or call 678-704-8730.