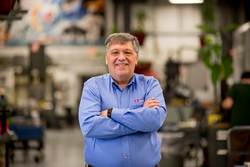 Latrobe, PA (PRWEB) June 23, 2016
L&S Machine Company, LLC today announced that it has received ISO 9001:2008 and AS9100C accreditation for the manufacture and fabrication of build‐to‐print metal and phenolic parts.
The quality certifications apply to the company's diverse manufacturing operations—which include precision machining, welding, waterjet cutting and EDM as well as prototyping and inspection services.
According to L&S President Rob DiNardi, the ISO 9001 and AS9100 certifications represent an evolution of the company's existing quality management system. "We've long served the nuclear power industry, which has the most stringent quality requirements. ISO 9001 and AS9100 are simply a natural outgrowth of a comprehensive quality system that we've had in place for years," DiNardi says.
In addition to manufacturing nuclear power components, L&S serves customers who require precision parts for aerospace, defense, semiconductor, photonics, medical and industrial applications.
For more information visit: http://www.lsmachineco.com