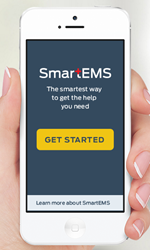 Ambulance tracking, notifications to loved ones, and allowing patients to choose their own hospitals, are just a few of the elements that will allow SmartEMS to revolutionize medical transport.
Brooklyn, NY (PRWEB) June 27, 2016
A revolution is underway. Brooklyn-based company, SmartEMS, is using cutting edge technology to revolutionize the emergency ambulance transport experience for the millions of people who require these medical transport services annually.
Many are aware of how Uber has disrupted the taxi industry through the use of technology. Now, SmartEMS has put forth an industry-changing app that is certain to disrupt the traditional approach of how patients are taken to hospitals and medical facilities by using innovative technology. Technology that can save lives!!
SmartEMS is a cooperative of multiple medical transport companies that have turned to technology to tackle the inefficiencies plaguing medical transport services. Careful analysis of the current operational approach of ambulances, as well as the information provided by hundreds of seniors, brought to light the need innovate the medical transportation services. These technologies would allow Paramedics and EMT's, to provide services in a more efficient and effective manner during the critical moments of an emergency.
SmartEMS is a revolutionary and proprietary new app that allows smartphone users to contact an ambulance with state certified emergency EMT's and paramedics at the touch of a screen. SmartEMS allows users to pre-register medical history so that first responders have the information on hand to start treatment quickly. The app also allows users to pre-register the hospital they would like to be taken in the event of an emergency so that they can be cared for by their own doctors, in a comfortable and familiar setting.
Additionally, SmartEMS has a unique ambulance tracker feature that takes away some of the anxiety in waiting for an ambulance by allowing users to track the progress of the ambulance on its way with the requested medical help. The SmartEMS app also uses email and text to immediately contact any pre-registered contacts, such as family and friends, in the event of an emergency. This feature serves as a pendant–type of alert for family members and care-givers when a registrant calls for an ambulance – with no monthly service fees.
The SmartEMS app provides a substantial enhancement by allowing choice of hospitals, ambulance tracking, notifications to loved ones, and pre-registration of medical history. For an industry that has not experienced innovation in years, the SmartEMS app finally provides innovative solutions in an app that can save lives. The app works with iPhones, iPads and Android phones and is available free on Google Play or Apple App store.
For more information, visit http://www.smartemsapp.com or contact Ben Schapiro at 917.763.2800